Ryan Stout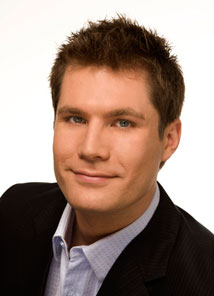 Ryan Stout is a well-crafted and seasoned comedian who has performed all over the world. A regular guest on Chelsea Lately, Ryan has also appeared on Conan, HBO's Funny as Hell, Comedy Central's Live at Gotham, and his own half-hour special: Comedy Central Presents Ryan Stout. His debut comedy album, Touché, was released by Comedy Central Records and reached #7 on the iTunes comedy charts. While still in college, Stout was already performing over 300 shows per year when, at age 22, he won the Boston International Comedy Festival's stand-up comedy competition. He went on to perform at HBO's The Comedy Festival in Las Vegas, HBO's U.S. Comedy Arts Festival in Aspen, the prestigious Just For Laughs International Comedy Festival in Montreal, and the very hip SXSW festival in Austin, Texas. Within six months of moving to Los Angeles, he booked his first pilot, hosting a game show for MTV. That one job established him as a go-to host for any occasion and over the next few years MTV booked Ryan to host nearly 50 projects, including pilots, specials, and episodes of random television. He even hosted the iconic MTV Spring Break. In 2013, Ryan signed on with AXS TV to host the network's one-hour flagship show, AXS Live. Ryan turned out to be the 21st and final host of AXS Live, presenting more episodes than any of his forebears and doubling– yeah, DOUBLING– the show's ratings. When the program was eventually cancelled, the experience was like déjà vu. Just like his MTV days, AXS TV took full advantage of Ryan's hosting capabilities, placing him at the helm of an assortment of programing: AXS TV's New Year's Bash, the 2014 Grammy Prediction Special, "best of" episodes of Gotham Comedy Live, and LIVE coverage of all the biggest parties in New York City leading up to Super Bowl XLVIII on AXS TV's Super Party. Currently, he can be seen on Fameless, a new prank show from David Spade and TruTV and he stars in AXS TV's talking head comedy series, MOCKpocalypse, which began airing its third season on August 27, 2015.
SORRY, CONTENT ACCESS RESTRICTED
This video contains TV-MA rated content. To access this video, you must register, provide your birthdate, and opt-in to receiving TV-MA rated content
This video is only available in an uncensored version. To access this video, you must register, provide your birth date, and opt-in to receiving uncensored content.
Cancel