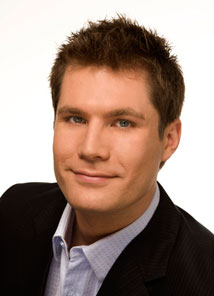 Ryan Stout Biography
Ryan Stout is a fresh face discovering a jaded world. He is a handsome, clean-cut, former Boy Scout who talks about abuse, suicide, and girls who secretly cut themselves with sharp objects. In general, Stout loves to explore morally repugnant subject matter with sterile objectivity. His exaggerated honesty, delightful insincerity, and cute self-righteousness sell his wickedly witty material. No matter what the topic, this suit clad comic appeals to everyone's sense of logic. To assure his brand of offensive humor stays on an intellectual level, he tries to keep swear words out of his act. There is no need for filth.

Stout was the winner of the Boston Comedy Festival's Stand Up Comedy Contest in 2005. In addition, he was a featured performer at HBO's The Comedy Festival in Las Vegas in 2005, HBO's The Comedy Festival in Aspen, Colorado, in 2006, and at the prestigious Montreal Just for Laughs Comedy Festival in 2008. Soon after his first festival appearances, he hosted two game show pilots for MTV, IQ: Idiot Quest in 2007 and Singled Out in 2007. He performed stand up on Comedy Central's Live at Gotham in 2007 and appeared on the nationally syndicated radio program, The Bob & Tom Show.

Stout settled into his television career by reviewing, recapping, and capping on several of MTV's popular reality shows. As the host of the network's after show series A Shot at Love: The Hangover in 2007/2008 and More Amore in 2008, he tells jokes, performs in short sketches, and interviews reality show contestants. It wasn't long before Stout was tapped to film another game show pilot for MTV called Pop-a-razzi! in 2008. Establishing himself as a go-to host for any event, the network often calls on Stout to host television specials, the most recent of which include MTV's Most Valuable Players in 2008, the iconic MTV Spring Break: Tila Tequila's Spring Break Fantasy Couple in 2008, and he also hosted reunion specials for several MTV reality shows, including Paris Hilton's My New BFF Reunion Special in 2008 and was host of the MTV series Ranked in 2008.