Scott Krinsky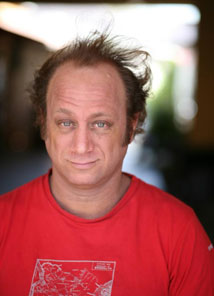 Scott Krinsky portrayed Jeff on NBC's action/comedy series Chuck that chronicles the life of "a twenty-something computer geek who inadvertently downloads government secrets into his brain." Among Krinsky's additional television credits are appearances on The O.C. as Daryl from 2006 to 2007, Without a Trace, MADtv, and numerous national commercials, including a recent spot for Vitamin Water with Lebron James. Other screen credits include the independent features Love Made Easy, Shamelove, and the 2005 Slamdance Film Festival selection, The Dry Spell, as well as the upcoming Silverlake Video: The Movie.

As a stand up comic, he performs regularly at the major clubs in Los Angeles and around the country as well as many of the city's alternative venues. In addition, Krinsky is a founding member of the critically acclaimed comedic theater group, The Bad Puppets, performing in the company's wildly offbeat work. He is also currently a member of the SpyAnts Theatre Company, having performed in their 2008 West Coast premiere of the play, Kidnapped by Craigslist.

He is a graduate of Salisbury University in Maryland where he majored in communications and broadcast journalism, and worked the trenches as a scrappy intern at CNN. A sometimes aspiring chef with a passion for cooking, he also attended the Epicurean School of Culinary Arts in Los Angeles to study breads and pastries.

Growing up, Krinsky was a competitive swimmer, and he still enjoys the water spending free time for scuba and surfing at the beach.
SORRY, CONTENT ACCESS RESTRICTED
This video contains TV-MA rated content. To access this video, you must register, provide your birthdate, and opt-in to receiving TV-MA rated content
This video is only available in an uncensored version. To access this video, you must register, provide your birth date, and opt-in to receiving uncensored content.
Cancel