Steve Flye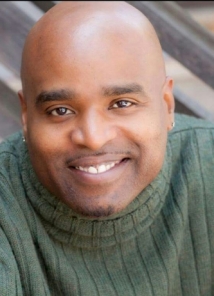 Tsunamis, shark/terrorist attacks, Hurricane Katrina... Steve Flye's brand of comedy has withstood ALL THAT! Kevin Hart is short... So is Steve. Darth Vader is African-American, at least his voice is... So is Steve. Dave Chappelle is funny... And comparisons to him have followed Steve the last few years of his career. So Steve Flye is funny, too! A native Houstonian, Steve received a full schloarship in football to play at Tulane University in New Orleans, graduating with a degree in psychology. After moving to California, Steve's diligent work ethic resulted in tangible success. Within three years, Steve was making his national television debut on BET's ComicView. A year after that, CSI: Las Vegas came calling where he got to play the "crime scene." Then a Super Bowl commercial. Birth of Our Nation on PAX. Writer for MTV. And just recently appearing on Bar Rescue.
Steve describes himself as an "L.A. comic because... That's where I cut my teeth." Steve recently moved back to Texas from Los Angeles to help take care of his grandmother and has found a wealth of funny in senior home health care. He actually began performing in Houston at the age of five, starring in a KHOU-CBS Black History commercial. Being a prepared performer by the age of 8, Steve auditioned for Houston's professional boys choir "The Singing Boys of Houston." Traveling with that group to such places as New York, San Francisco and Canada helped Steve learn to live on the road.
His comedy has taken him all over the world and Steve says it is his greatest pleasure performing for America's Armed Forces abroad. Steve Flye has been called the "Martin Luther West Jr." of Comedy! Building bridges & relationships through unadulterated funny! With impeccable timing, intellect & poise...Steve Flye creates a connection with every audience he performs for, creating a "virtual friendship" that allows acceptance and leads to laughter! His talent is evident, penetrating and has been witnessed by patrons from Okinawa, Japan to Ontario, Canada! He is an established musician/actor and just recorded his latest DVD #Flyepaper set for 2015 release on Hulu! Showcasing an undeniable wit along with a contagious smile, Steve Flye is the next household name in the world of comedy!
SORRY, CONTENT ACCESS RESTRICTED
This video contains TV-MA rated content. To access this video, you must register, provide your birthdate, and opt-in to receiving TV-MA rated content
This video is only available in an uncensored version. To access this video, you must register, provide your birth date, and opt-in to receiving uncensored content.
Cancel