Stroy Moyd - Black Hope
Stroy Moyd feels like Tyler Perry brings hope to his world!
Stroy Moyd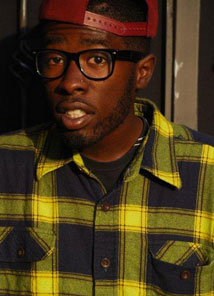 Stroy Moyd's energetic and eccentric brand of shattering assumption comedy has made him a favorite at comedy clubs and campuses across the nation. His resilience and dedication to his craft has not only made him the three time champion of the Laugh Factory's Fresh Faces comedy competition, but also co-host of one of the hottest online radio shows, Colette Carr Pool. The show features Interscope Records' pop superstar, Colette Carr, and Moyd as her co-host. Within one year of arriving to Hollywood, Moyd has already produced two of Los Angeles' hottest comedy shows, the Laugh Bowl at the Laugh Factory and Young Funny Sundays at the Improv. The owner of the Laugh Factory, Jamie Masada, called Moyd "the next Redd Foxx" after winning Fresh Faces for the third and final time.

While most high school students spent their weekends at a house party or at the local movie theater, Moyd was at the local comedy club. Moyd got his first taste of stand up comedy at the tender age of 15 at an open mic night at a cafe near his house. Even though his first attempt wasn't very successful, he was encouraged to write better jokes and come back next week. When he came back, he killed. Moyd was born in Oakland, California, on July, 30, 1987, to his parents Elsie and "Big Stroy" Moyd Jr. "Big Stroy" was the clown of the family as Moyd remembers. "Man, sometimes I would come home and see my dad telling jokes to all of his friends and have all of them in stitches! I guess you can say I inherited the ability to make people laugh." Moyd always wanted to be like his father. It wasn't too long until he started cracking up his classmates and getting sent to detention for trying rude jokes on his teachers.

With Oakland, California, being the second most dangerous city in the country, Moyd's parents decided to move out of Oakland in 2001. When Moyd moved to Berkeley in 2001, he discovered his two passions in life, stand up comedy and skateboarding. Soon after getting settled into Berkeley, Moyd started performing in some of the biggest venues the Bay Area has to offer.

Moyd has accomplished a lot with the help from only himself. His accomplishments include hosting the 15 city tour entitled the One Night Stand Tour, headlined by the Bay Area music groups The Pack and The Cataracs, the documentary is available online. He hosted UPN's Speak on It, a local television show for teenagers to make them aware of drugs, violence, sex, etc., and he's won a handful of local comedy competitions.

Originality means a lot in the entertainment industry. To stand out from the rest of his fellow comedians, Moyd began making beats and performing hilarious rap songs on stage. "At first I was really nervous to perform funny rap songs because no one has ever done it before, and I didn't know how the crowd would react." After he performed his first single, "Asian Bitch," well, the rest was history. Dubbing himself as "The Prince of Comedy," Moyd knows he has a lot to learn. He dreams of speaking to millions of people through his own comedy show Stroy T.V. on MTV one day. Moyd recently relocated to Los Angeles to build a buzz and push his debut comedy/album that he wrote, recorded, made the beats to, and produced, his own CD entitled That's Right, I Said It!
SORRY, CONTENT ACCESS RESTRICTED
This video contains TV-MA rated content. To access this video, you must register, provide your birthdate, and opt-in to receiving TV-MA rated content
This video is only available in an uncensored version. To access this video, you must register, provide your birth date, and opt-in to receiving uncensored content.
Cancel