Tom Green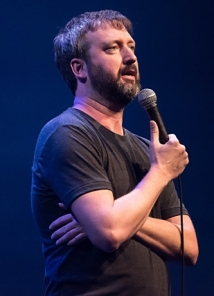 Michael Thomas "Tom" Green, born July 30, 1971, is a Canadian actor, rapper, writer, comedian, talk show host and media personality. He is best known for his MTV television show The Tom Green Show.

In June 2003, Green had the chance to guest host the Late Show with David Letterman, which led to him hosting his own late night talk show on MTV entitled The New Tom Green Show. In 2006 he began hosting his internet talk show Tom Green's House Tonight from his living room, and in January 2010 he started performing stand up comedy on his world tour.

On numerous interviews, Green has stated that he started doing stand up comedy at the age of 15 but stopped after he started his public access show. Green said that going back to stand up comedy was something he always wanted to do.
SORRY, CONTENT ACCESS RESTRICTED
This video contains TV-MA rated content. To access this video, you must register, provide your birthdate, and opt-in to receiving TV-MA rated content
This video is only available in an uncensored version. To access this video, you must register, provide your birth date, and opt-in to receiving uncensored content.
Cancel