VOMIT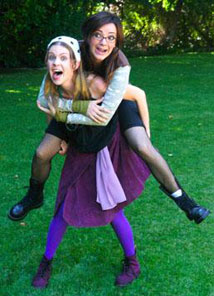 VOMIT! has been performing regularly at Los Angeles area clubs for the last two years. The rock band is comprised of twin sisters and constant adversaries, Skye and Moone. They have been hailed by critics and audiences alike as "amazing," "talented," and, "better looking with beer goggles." They want to be rock stars and they'll go to any lengths to achieve their dream, no matter how far off that may be or how many rock stars they have to sleep with to get there.

Analisa Brouet, also known as Skye, attended film school in Minneapolis, Minnesota, before making the move to Los Angeles to pursue an acting career. She began studying with Arthur Mendoza and working with the Actors Circle Theater in West Hollywood. Soon after, she began working in film, landing roles in Rangley Beach, also known as The Lords of Los Angeles, and The Haven. Missing the instant gratification of theater, she began working with the very popular Sacred Fools Theater Company as a writer, director, and actress. She most recently produced Ryan's Life, a television series, with writing partner Nick Wauters and co-wrote "The Receipt," a Los Angeles International Short Film Festival winner starring Kristen Bell.

After being raised in Las Vegas and Reno, Nevada, Tara Jean O'Brien, also known as Moone, took a long hot shower and headed to Los Angeles to attend the University of Southern California School of Theatre. She decided to become more serious and study Shakespearian acting abroad at the British American Drama Academy, where strangely enough, she figured out that she wanted to do comedy. After graduating from the University of Southern California, O'Brien headed to the Groundlings and iO West Theater to toughen up her improvisation and sketch skills. After all that training, she is now looking for a way to pay off all that debt that doesn't involve stripping. She was part of the Santa Monica based improv troupe, The People's Republic of Improv, for five years and currently performs theater at numerous venues in and around Los Angeles.
SORRY, CONTENT ACCESS RESTRICTED
This video contains TV-MA rated content. To access this video, you must register, provide your birthdate, and opt-in to receiving TV-MA rated content
This video is only available in an uncensored version. To access this video, you must register, provide your birth date, and opt-in to receiving uncensored content.
Cancel