Vittorio Leonardi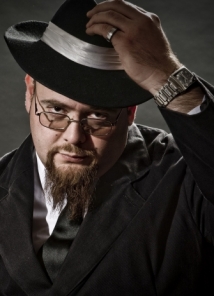 In his 13 years on stage, Vittorio has tried to show audiences a new way to see the world - slightly skewed, a bit quirky and governed by cartoon law. Hailing from the streets of Welkom, this Italian-born stallion left home and successfully navigated the many pitfalls of a world with shoes and electricity in his travels around SA. From shoe sizes to the inner workings of the Roman Army; from heavy metal to relationship jargon, this comic takes the world, turns it sideways and gets us to see it as it could be if we'd all just reach behind our backs, pull out a cream pie, throw it and learn to laugh.
Vittorio Leonardi began his career on August 27th, 1999 and has been a stand up comedian for 13 years. Added to that, he is also an accomplished improvised comedian having performed with the Joe Parker's Improv Express and The Starship Improvise for over 9 years. He has been invited to give three talks on comedy by Toastmasters South Africa and twice by Mensa. He has also delivered talks on the mechanics of comedy to the Grade 9 drama classes of St. Mary's Diocesan School for Girls in Pretoria. Vittorio has been the resident MC at various comedy nights across Gauteng including Tanz Café in Bryanston, News Café in Faerie Glen and The Venetian Show Bar in The Marco Polo Casino.
SORRY, CONTENT ACCESS RESTRICTED
This video contains TV-MA rated content. To access this video, you must register, provide your birthdate, and opt-in to receiving TV-MA rated content
This video is only available in an uncensored version. To access this video, you must register, provide your birth date, and opt-in to receiving uncensored content.
Cancel