The Laugh Factory Joke of the Day Widget
OVERVIEW :
Do you have a website or blog that could use a few laughs? Are you tired of having to search for funny jokes each day to keep the content updated? Well now you can leave it to the comedy experts at the Laugh Factory. Our new Joke-of-the-Day widget code can be quickly and easily added to your website or blog. Just follow the instructions below.
INSTALLATION INSTRUCTIONS:
Step 1: Insert the below into the <head> section of your page:

                                        <script type="text/javascript" 
                                        src="http://www.laughfactory.com/js/joke_of_the_day.js">
                                        </script>
                                        
Step 2: Finally, insert the below code where you wish the widget to appear on your page:

                                        <div id="joke-widget-container"></div>
                                        
And that's it! A joke daily to entertain your visitors.
SAMPLE WEBPAGE :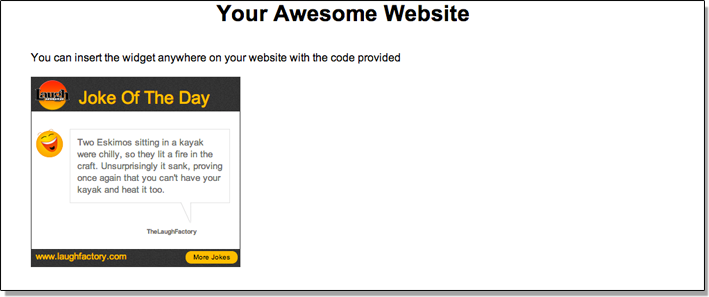 SAMPLE WEBPAGE HTML:

                                        <!DOCTYPE html PUBLIC "-//W3C//DTD XHTML 1.0 Transitional//EN"
                                         "http://www.w3.org/TR/xhtml1/DTD/xhtml1-transitional.dtd">
                                        <html xmlns="http://www.w3.org/1999/xhtml">
                                        <head>
                                        <meta http-equiv="Content-Type" content="text/html; charset=utf-8" />
                                        <title>My Website</title>
                                        <style type="text/css">
										.wrapper{
											width:1024px;
											margin:auto;
										}
										h3{
											width:100%;
											text-align:center;
											padding:10px;
										}
										p{
											margin-bottom:15px;
										}
                                        <script type="text/javascript" 
                                        src="http://www.laughfactory.com/js/joke_of_the_day.js">
                                        </script>
                                        </head>                                        
                                        <body>
                                        <div class="wrapper">
                                            <h3>Your Awesome WebSite</h3>
                                            <p>You can insert the widget anywhere on your website with the code provided.</p>
                                            <div id="joke-widget-container">
                                        	</div>
                                        </div>
                                        </body>
                                        </html>