Categories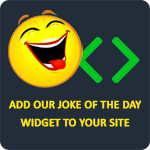 How do you blindfold a Chinese person? Put floss over their eyes.
kallen007
Q: Why did the boy eat his homework?
A: Because his teacher said it was a piece of cake.
Anonymous
Yo momma's so fat, that when she fell, no one was laughing but the ground was cracking up.
LaughFactory
A woman gets on a bus with her baby. The bus driver says, "That's the ugliest baby that I've ever seen. Ugh!" The woman goes to the rear of the bus and sits down, fuming. She says to a man next to her, "The driver just insulted me!" The man says, "You go right up there and tell him off – go ahead, I'll hold your monkey for you."
avre1
Q: What is the difference between snowmen and snowwomen?
A: Snowballs.
Anonymous