Categories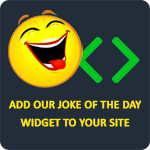 Yo momma is so stupid she climbed over a glass wall to see what was on the other side.
Anonymous
A proud and confident genius makes a bet with an idiot. The genius says, "Hey idiot, every question I ask you that you don't know the answer, you have to give me $5. And if you ask me a question and I can't answer yours I will give you $5,000." The idiot says, "Okay." The genius then asks, "How many continents are there in the world?" The idiot doesn't know and hands over the $5. The idiot says, "Now me ask: what animal stands with two legs but sleeps with three?" The genius tries and searches very hard for the answer but gives up and hands over the $5000. The genius says, "Dang it, I lost. By the way, what was the answer to your question?" The idiot hands over $5.
Anonymous
Q: Why was six scared of seven?
A: Because seven "ate" nine.
Anonymous
Two cowboys are out on the range talking about their favorite sex position. One says, "I think I enjoy the rodeo position the best." "I don't think I have ever heard of that one," says the other cowboy. "What is it?" "Well, it's where you get your girl down on all four, and you mount her from behind. Then you reach around, cup her t*ts, and whisper in her ear, 'boy these feel almost as nice as your sisters.' Then you try and hold on for 30 seconds."
ballmyloveb
A few months after his parents were divorced, little Johnny passed by his mom's bedroom and saw her rubbing her body and moaning, "I need a man, I need a man!" Over the next couple of months, he saw her doing this several times. One day, he came home from school and heard her moaning. When he peeked into her bedroom, he saw a man on top of her. Little Johnny ran into his room, took off his clothes, threw himself on his bed, started stroking himself, and moaning, "Ohh, I need a bike! I need a bike!"
kandue0962