Categories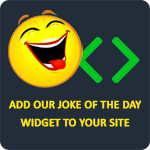 Yo momma's so dumb, when y'all were driving to Disneyland, she saw a sign that said "Disneyland left," so she went home.
LaughFactory
Why do women make better soldiers? Because they can bleed for a week and not die.
srehak1
Yo momma is so fat that Dora can't even explore her!
Haydenjr1
Yo mama so ugly when she went into a haunted house she came out with a job application.
TheLaughFactory
Blonde: "What does IDK stand for?"
Brunette: "I don't know."
Blonde: "OMG, nobody does!"
Anonymous