Categories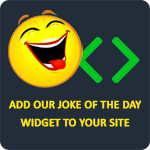 Yo momma's so fat she needs cheat codes for Wii Fit.
joshdavis1991
Yo momma's so stupid, she put two quarters in her ears and thought she was listening to 50 Cent.
marquez007
Q: How do Chinese people name their babies?
A: They throw them down the stairs to see what noise they make.
Anonymous
Q: What is the difference between Tiger Woods and Santa Claus?
A: Santa stops after three hos.
Brandon Lewis
Yo momma's so fat, that when she fell, no one was laughing but the ground was cracking up.
LaughFactory