Categories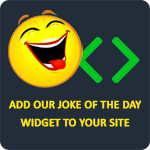 A blonde, wanting to earn some money, decided to hire herself out as a handyman-type and started canvassing a wealthy neighborhood. She went to the front door of the first house and asked the owner if he had any jobs for her to do. "Well, you can paint my porch. How much will you charge?" The blonde said, "How about 50 dollars?" The man agreed and told her that the paint and ladders that she might need were in the garage. The man's wife, inside the house, heard the conversation and said to her husband, "Does she realize that the porch goes all the way around the house?" The man replied, "She should. She was standing on the porch." A short time later, the blonde came to the door to collect her money. "You're finished already?" he asked. "Yes," the blonde answered, "and I had paint left over, so I gave it two coats. "Impressed, the man reached in his pocket for the $50. "And by the way," the blonde added, "that's not a Porch, it's a Ferrari."
muffinman1986
An organization is like a tree full of monkeys, all on different limbs at different levels. The monkeys on top look down and see a tree full of smiling faces. The monkeys on the bottom look up and see nothing but assholes.
faranak67
Yo momma's so fat, that when she fell, no one was laughing but the ground was cracking up.
LaughFactory
Q: How do Chinese people name their babies?
A: They throw them down the stairs to see what noise they make.
Anonymous
Q: What's the difference between a Jew and a boy scout?
A: A boy scout comes home from camp.
Anonymous