Categories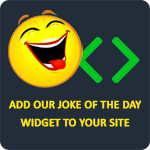 Yo momma's so fat, that when she fell, no one was laughing but the ground was cracking up.
LaughFactory
How are women and tornadoes alike? They both moan like hell when they come, and take the house when they leave.
JayDee917
Three men are traveling in the Amazon, a German, an American, and a Mexican. They get captured by some Amazons. The head of the tribe says to the German, "What do you want on your back for your whipping?" The German responds, "I will take oil!" They put oil on his back, and a large Amazon whips him 10 times. When he is finished, the German has huge welts on his back, and he can hardly move. The Amazons haul the German away, and say to the Mexican, "What do you want on your back?" "I will take nothing!" says the Mexican, and he stands there straight and takes his 10 lashings without a single flinch. "What will you take on your back?" the Amazons ask the American. "I'll take the Mexican."
gossen
Yo momma is so stupid she climbed over a glass wall to see what was on the other side.
Anonymous
A guy took his blonde girlfriend to her first football game. They had great seats right behind their team's bench. After the game, he asked her how she liked the experience. "Oh, I really liked it," she replied, "especially the tight pants and all the big muscles, but I just couldn't understand why they were killing each other over 25 cents." Dumbfounded, her date asked, "What do you mean?" "Well, they flipped a coin, one team got it, and then for the rest of the game, all they kept screaming was, 'Get the quarterback! Get the quarterback!' I'm like, hello? It's only 25 cents!"
laurieleebrown