Categories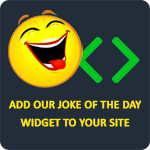 Q: Why was six scared of seven?
A: Because seven "ate" nine.
Anonymous
Q: How do Chinese people name their babies?
A: They throw them down the stairs to see what noise they make.
Anonymous
Your momma is so ugly she made One Direction go another direction.
Anonymous
Did you hear about the Iranian who locked himself out of his car? It took three hours to get his family out of it.
Anonymous
Two blondes fell down a hole. One said, "It's dark in here isn't it?" The other replied, "I don't know; I can't see."
Anonymous