Categories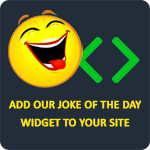 Yo momma is so fat when she sat on WalMart, she lowered the prices.
zacky
A little girl and boy are fighting about the differences between the sexes, and which one is better. Finally, the boy drops his pants and says, "Here's something I have that you'll never have!" The little girl is pretty upset by this, since it is clearly true, and runs home crying. A while later, she comes running back with a smile on her face. She drops her pants and says, "My mommy says that with one of these, I can have as many of those as I want!"
Anonymous
Yo momma is so fat that Dora can't even explore her!
Haydenjr1
Q: What did the duck say when he bought lipstick?
A: "Put it on my bill."
TheLaughFactory
Yo momma is so stupid she climbed over a glass wall to see what was on the other side.
Anonymous