Categories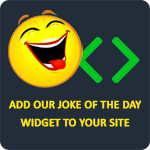 Yo momma's so dumb, when y'all were driving to Disneyland, she saw a sign that said "Disneyland left," so she went home.
LaughFactory
As an airplane is about to crash, a female passenger jumps up frantically and announces, "If I'm going to die, I want to die feeling like a woman." She removes all her clothing and asks, "Is there someone on this plane who is man enough to make me feel like a woman?" A man stands up, removes his shirt and says, "Here, iron this!".
cdiesel1208
Q: What did the duck say when he bought lipstick?
A: "Put it on my bill."
TheLaughFactory
One day a man came home from work to find his wife crying hysterically in the kitchen. "What's wrong, dearest?" asked the confused husband. "Oh darling," sobbed the wife, "I was cleaning little Suzie's room when I found whips, handcuffs and chains under her bed, along with a very erotic porn magazine! What ever are we going to do?" "Well," replied the man, "I guess a spanking is out of the question?"
Connor
A teacher wanted to teach her students about self-esteem, so she asked anyone who thought they were stupid to stand up. One kid stood up and the teacher was surprised. She didn't think anyone would stand up so she asked him, "Why did you stand up?" He answered, "I didn't want to leave you standing up by yourself."
ronald34