Categories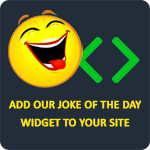 Little Sally came home from school with a smile on her face, and told her mother, "Frankie Brown showed me his weenie today at the playground!" Before the mother could raise a concern, Sally went on to say, "It reminded me of a peanut." Relaxing with a hidden smile, Sally's mom asked, "Really small, was it?" Sally replied, "No, salty." Mom fainted.
ezmoney
Q: What do you call a dinosaur with an extensive vocabulary?
A: A thesaurus.
Silenxio Maximeaning Ultimious
Whenever your ex says, "You'll never find someone like me," the answer to that is, "That's the point."
Ascelyn
Yo momma so stupid she stuck a battery up her ass and said, "I GOT THE POWER!"
GIovanni pinto ramos
Your momma is so ugly she made One Direction go another direction.
Anonymous