Categories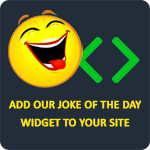 Q: Why can't a blonde dial 911?
A: She can't find the eleven.
TheLaughFactory
A black Jewish boy runs home from school one day and asks his father, "Daddy, am I more Jewish or more black?" The dad replies, "Why do you want to know, son?" "Because a kid at school is selling a bike for $50 and I want to know if I should talk him down to $40 or just steal it!"
Anonymous
Two blondes fell down a hole. One said, "It's dark in here isn't it?" The other replied, "I don't know; I can't see."
Anonymous
A man is fishing and he catches a crocodile. The crocodile tells him, "Please let me go! I'll grant you any wish you desire." The man says, "Okay, I wish my penis could touch the ground." The crocodile then bites his legs off.
Anonymous
Wife: "How would you describe me?"
Husband: "ABCDEFGHIJK."
Wife: "What does that mean?"
Husband: "Adorable, beautiful, cute, delightful, elegant, fashionable, gorgeous, and hot."
Wife: "Aw, thank you, but what about IJK?"
Husband: "I'm just kidding!"
tiya