Categories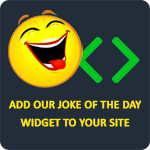 How are women and tornadoes alike? They both moan like hell when they come, and take the house when they leave.
JayDee917
The following is a courtroom exchange between a defense attorney and a farmer with a bodily injury claim. It came from a Houston, Texas insurance agent.

Attorney: "At the scene of the accident, did you tell the constable you had never felt better in your life?"

Farmer: "That's right."

Attorney: "Well, then, how is it that you are now claiming you were seriously injured when my client's auto hit your wagon?"

Farmer: "When the constable arrived, he went over to my horse, who had a broken leg, and shot him. Then he went over to Rover, my dog, who was all banged up, and shot him. When he asked me how I felt, I just thought under the circumstances, it was a wise choice of words to say."
TheLaughFactory
A traveling salesman asked a farmer to spend the night. The farmer agreed, but told him he would have to sleep in the barn. The farmer, being a nice guy and knowing how horny traveling salesmen get told the man, "Look son, see that wall? It's got three holes in it. You can screw the first two but don't mess around with that third hole. Got it?" The salesman thanked him and bedded down on a pile of hay. About midnight he got real horny and decided to take a poke at the first hole. It was good but not really satisfying so he took a poke at the second hole. It was even better but he still wasn't satisfied so he thought about the third hole and reasoned to himself, "If that first hole was pretty good and the second hole was even better, I'll bet that third hole will really do the trick!" The next morning the farmer noticed the salesman was still sleeping so he went about his chores and late in the afternoon he finally saw the salesman wake up. "Damn, son! You been sleeping a long time! What happened?" "Well," the salesman replied. "I should have listened to you. I got horny last night and tried that first hole and it was pretty fair but not really satisfying so I tried the second hole. It was good but didn't do the job so I took on that third hole. Say, what's behind them holes anyway?" "Son, that first hole is my sheep, Dolly. The second hole is my mare, Sally, and that third hole is my milking machine and that thing don't quit till it gets a quart!"
Anonymous
Josey wasn't the best pupil at Sunday school. She often fell asleep and one day while she was sleeping, the teacher asked her a question. "Who is the creator of the universe?" Joe was sitting next to Josey and decided to poke her with a pin to wake her up. Josey jumped and yelled, "God almighty!" The teacher congratulated her. A little later the teacher asked her another question, "Tell me who is our lord and savior?" Joe poked Josey again and she yelled out, "Jesus Christ!" The teacher congratulated her again. Later on the teacher asked, "What did Eve say to Adam after their 26th child?" Joe poked Josey again and she shouted, "If you stick that thing in me again, I'll snap it in half and stick it up your ass!"
I\'m hilarious
Yo momma is so fat her bellybutton gets home 15 minutes before she does.
Anonymous