Categories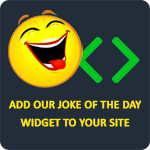 A man was having premature ejaculation problems so he went to the doctor. The doctor said, "When you feel like you are getting ready to ejaculate, try startling yourself." That same day the man went to the store and bought himself a starter pistol and ran home to his wife. That night the two were having sex and found themselves in the 69 position. The man felt the urge to ejaculate and fired the starter pistol. The next day he went back to the doctor who asked how it went. The man answered, "Not well. When I fired the pistol, my wife pooped on my face, bit three inches off my penis, and my neighbor came out of the closet with his hands in the air."
Oure
A black guy walks into a bar with a parrot on his shoulder and asks for a beer. The bartender brings a beer and notices the parrot on his shoulder and says, "Hey that's really neat. Where did you get it?" The parrot responds, "In the jungle, there's millions of them."
bruinsman
Q. What did the elephant say to the naked man? A. "How do you breathe through something so small?"
TheLaughFactory
A robber comes into the store & steals a TV. A blonde runs after him and says, "Wait, you forgot the remote!"
standbyme23
One night a lady came home from her weekly prayer meeting, found she was being robbed, and she shouted out, "Acts 2:38: 'Repent & be baptized & your sins will be forgiven.'" The robber quickly gave up & the lady rang the police. While handcuffing the criminal, a policeman said, "Gee mate, you gave up pretty easily. How come you gave up so quickly?" The robber said, "She said she had an axe and two 38's!"
Nina Jobling