Categories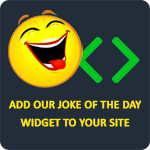 Yo momma is so fat when she sat on WalMart, she lowered the prices.
zacky
Yo momma is so fat her bellybutton gets home 15 minutes before she does.
Anonymous
My friend thinks he is smart. He told me an onion is the only food that makes you cry, so I threw a coconut at his face.
funny jokes
Yo momma's so fat, that when she fell, no one was laughing but the ground was cracking up.
LaughFactory
Q. What is a taxidermist's favorite part of Thanksgiving?
A. The stuffing.
Cory