Categories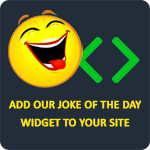 A US Border Patrol Agent catches an illegal alien in the bushes right by the border fence, he pulls him out and says "Sorry, you know the law, you've got to go back across the border right now." The Mexican man pleads with them, "No, noooo Senor, I must stay in de USA! Pleeeze!" The Border Patrol Agent thinks to himself, I'm going to make it hard for him and says "Ok, I'll let you stay if you can use three english words in a sentence. The three words are 'green,' 'pink,' and 'yellow.'" The Mexican man thinks , then says, "Hmmm, okay. The phone, it went green, green, green. I pink it up and sez yellow?"
gsuber2472
My uncle was a racist piano player, all his work sounded awful because he skipped all the black keys.
TonyYancey
Yo momma is so fat, when she sat on an iPod, she made the iPad!
My mom
A bride tells her husband, "Honey, you know I'm a virgin and I don't know anything about sex. Can you explain it to me first?" "Okay, sweetheart. Putting it simply, we will call your private place 'the prison' and call my private thing 'the prisoner'. So what we do is put the prisoner in the prison." And they made love for the first time and the husband was smiling with satisfaction. Nudging him, his bride giggles, "Honey the prisoner seems to have escaped." Turning on his side, he smiles and says, "Then we will have to re-imprison him." After the second time, the bride says, "Honey, the prisoner is out again!" The husband rises to the occasion and they made love again. The bride again says, "Honey, the prisoner escaped again," to which the husband yelled, "Hey, it's not a life sentence!!!"
MrsChinchilla
Why are asprins white? Because they work!
ScottBackman