Categories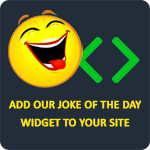 Two blondes fell down a hole. One said, "It's dark in here isn't it?" The other replied, "I don't know; I can't see."
Anonymous
Yo momma is so fat when she sat on WalMart, she lowered the prices.
zacky
A man and woman had been married for 30 years, and in those 30 years, they always left the lights off when having sex. He was embarrassed and scared that he couldn't please her, so he always used a big dildo on her. All these years she had no clue. One day, she decided to reach over and flip the light switch on and saw that he was using a dildo. She said "I knew it, asshole, explain the dildo!" He said, "Explain the kids!"
skylertouchet
Bob, Rob, and Robert live on the six hundredth floor of an apartment building. One day, the elevators are broken, so they have to take the stairs. To entertain themselves, they decide that for the first 200 floors, Bob will tell happy stories, for the middle 200 floors, Rob will tell funny stories, and for the last 200 floors, Robert will tell sad stories. On the 401st floor, Robert says, "Here's my sad story: I left our apartment's keys in the car."
Sense O. Humor
Why did Hitler kill himself? Because he saw his gas bill.
Mahachoo