Categories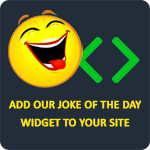 Blonde: "What does IDK stand for?"
Brunette: "I don't know."
Blonde: "OMG, nobody does!"
Anonymous
Yo momma's so stupid, she put two quarters in her ears and thought she was listening to 50 Cent.
marquez007
"Babe is it in?" "Yea." "Does it hurt?" "Uh huh." "Let me put it in slowly." "It still hurts." "Okay, let's try another shoe size."
guzz
Why did I get divorced? Well, last week was my birthday. My wife didn't wish me a happy birthday. My parents forgot and so did my kids. I went to work and even my colleagues didn't wish me a happy birthday. As I entered my office, my secretary said, "Happy birthday, boss!" I felt so special. She asked me out for lunch. After lunch, she invited me to her apartment. We went there and she said, "Do you mind if I go into the bedroom for a minute?" "Okay," I said. She came out 5 minutes later with a birthday cake, my wife, my parents, my kids, my friends, & my colleagues all yelling, "SURPRISE!!!" while I was waiting on the sofa... naked.
Anonymous
Q: What's red and bad for your teeth?
A: A brick.
Matt Rees