Categories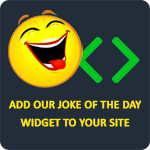 Wife: "I look fat. Can you give me a compliment?"
Husband: "You have perfect eyesight."
coloured pencils
How do you blindfold a Chinese person? Put floss over their eyes.
kallen007
A blonde, a redhead, and a brunette were all lost in the desert. They found a lamp and rubbed it. A genie popped out and granted them each one wish. The redhead wished to be back home. Poof! She was back home. The brunette wished to be at home with her family. Poof! She was back home with her family. The blonde said, "Awwww, I wish my friends were here."
Donovan
Q: Why can't a blonde dial 911?
A: She can't find the eleven.
TheLaughFactory
A boy is selling fish on a corner. To get his customers' attention, he is yelling, "Dam fish for sale! Get your dam fish here!" A pastor hears this and asks, "Why are you calling them 'dam fish.'" The boy responds, "Because I caught these fish at the local dam." The pastor buys a couple fish, takes them home to his wife, and asks her to cook the dam fish. The wife responds surprised, "I didn't know it was acceptable for a preacher to speak that way." He explains to her why they are dam fish. Later at the dinner table, he asks his son to pass the dam fish. He responds, "That's the spirit, Dad! Now pass the f*cking potatoes!"
bandajoey92