Categories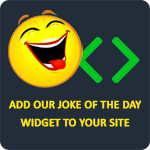 Yo mamma is so ugly when she tried to join an ugly contest they said, "Sorry, no professionals."
Anonymous
What did the blonde say when she saw the Cheerios box? "Omg, donut seeds!"
love4sheryl
Why did Hitler kill himself? Because he saw his gas bill.
Mahachoo
Yo momma is so fat that when she went to the beach a whale swam up and sang, "We are family, even though you're fatter than me."
Anonymous
A man comes home from a hard day of work only to find his wife laying infront of the fire place with her legs wide open. He asked, "Honey what are you doing?" She replied, "I'm heating up your dinner."
candiewhite