Categories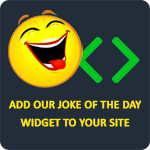 Yo mama so old she knew Mr. Clean when he had an Afro.
Anonymous
A hippie backpacker from the Swiss Alps was tramping across a farmers field when it got dark. He asked the farmer if he could spend the night. The farmer agreed but said he would have to sleep in bed with his 18 year old daughter. The farmer told him, "If I catch you molesting my daughter I'll shoot you!" That night the hippie and the farmers daughter got it on and had a great time. The farmer could hear the goings on from the next room. In the morning he opened the door and asked the hippie, "Did you have sex with my daughter?" The hippie was a Jesus freak so he decided to be honest: "Yes, I did. Please forgive me." The farmer took the hippie out back of the house and pointed a shotgun at him. "Ya got any last words, bub?" he asked. The Swiss hippie said, "Yodelayheehoo!" Then the farmer shot him. When the Sheriff arrived, he asked the farmer why he shot the man just for having sex with his daughter. The farmer replied, "Well, I didn't really have a problem with him screwing Bonnie. I was just gonna scare him a little, but when he said, 'Yer 'ol lady too!' that's when I blew his head off."
Anonymous
As an airplane is about to crash, a female passenger jumps up frantically and announces, "If I'm going to die, I want to die feeling like a woman." She removes all her clothing and asks, "Is there someone on this plane who is man enough to make me feel like a woman?" A man stands up, removes his shirt and says, "Here, iron this!".
cdiesel1208
Your momma is so ugly she made One Direction go another direction.
Anonymous
How to be Insulting in Theaters: If the person sitting in front of you is blocking your view, try adopting an irritating cough, or kicking your feet under their seat. Nasty, wet sneezes down the back of their neck are also effective in persuading them to look elsewhere for a seat.
LaughFactory