Categories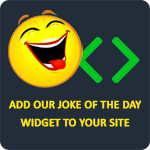 Q: My boyfriend is as beautiful as Frank Sinatra and as intelligent as Albert Einstein; what is his name?
A: Frankenstein.
Alejandro Jodorowsky
A teacher wanted to teach her students about self-esteem, so she asked anyone who thought they were stupid to stand up. One kid stood up and the teacher was surprised. She didn't think anyone would stand up so she asked him, "Why did you stand up?" He answered, "I didn't want to leave you standing up by yourself."
ronald34
Q: What stays in one corner but travels around the world?
A: A stamp.
Maja Zajac
Little Johnny traveled North to visit his friend during winter time. His friend's mother saw Johnny shivering, so she said, "Come here and put your hands between my thighs to warm them up." Johnny said, "My ears are cold too."
Lantanna Littlon
A black Jewish boy runs home from school one day and asks his father, "Daddy, am I more Jewish or more black?" The dad replies, "Why do you want to know, son?" "Because a kid at school is selling a bike for $50 and I want to know if I should talk him down to $40 or just steal it!"
Anonymous