Categories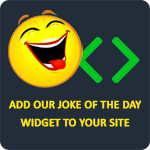 Q: Why can't a blonde dial 911?
A: She can't find the eleven.
TheLaughFactory
There was a blonde, a redhead, and a brunette. They were all trapped on an island and the nearest shore was 50 miles away. The redhead swam trying to make it to the other shore she swam 15 miles, drowned, and died. The brunette swam 24 miles, drowned, and died. The blonde swam 25 miles, got tired, and swam back.
Donovan
Q: Whats the difference between a politician and a snail?
A: One is slimy, a pest, and leaves a trail everywhere and the other is a snail.
Yambone
Roses are red.
Your blood is too.
You look like a monkey
And belong in a zoo.
Do not worry,
I'll be there too.
Not in the cage,
But laughing at you.
Anonymous
Q: What did the duck say when he bought lipstick?
A: "Put it on my bill."
TheLaughFactory