Categories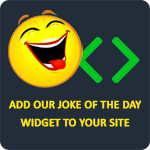 A woman gets on a bus with her baby. The bus driver says, "That's the ugliest baby that I've ever seen. Ugh!" The woman goes to the rear of the bus and sits down, fuming. She says to a man next to her, "The driver just insulted me!" The man says, "You go right up there and tell him off – go ahead, I'll hold your monkey for you."
avre1
When someone yawns, do deaf people think they're screaming?
Anonymous
How do you blindfold a Chinese person? Put floss over their eyes.
kallen007
A: "Why are you late?"
B: "There was a man who lost a hundred dollar bill."
A: "That's nice. Were you helping him look for it?"
B: "No, I was standing on it."
Anonymous
Bob was in trouble. He forgot his wedding anniversary. His wife was really pissed. She told him "Tomorrow morning, I expect to find a gift in the driveway that goes from 0 to 200 in 6 seconds AND IT BETTER BE THERE !!" The next morning he got up early and left for work. When his wife woke up, she looked out the window and sure enough there was a box gift-wrapped in the middle of the driveway. Confused, the wife put on her robe and ran out to the driveway, brought the box back in the house. She opened it and found a brand new bathroom scale. Bob has been missing since Friday.
meriwether12