Categories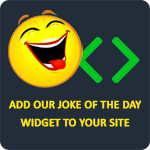 Two students were arguing when their teacher entered the classroom. The teacher says, "Why are you arguing?" One boy answers, "We found a ten dollar bill and decided to give it to whoever tells the biggest lie." "You should be ashamed of yourselves," said the teacher, "When I was your age I didn't even know what a lie was." The boys gave the ten dollars to the teacher.
Saarah jabbar<3
Sarah goes to school, and the teacher says, "Today we are going to learn multi-syllable words, class. Does anybody have an example of a multi-syllable word?" Sarah waves her hand, "Me, Miss Rogers, me, me!" Miss Rogers says, "All right, Sarah, what is your multi-syllable word?" Sarah says, "Mas-tur-bate." Miss Rogers smiles and says, "Wow, Sarah, that's a mouthful." Sarah says, "No, Miss Rogers, you're thinking of a blowjob."
Rodderiqus11
Q: What's the difference between Usain Bolt and Hitler?
A: Usain Bolt can finish a race.
Broom
Maria went home happy, telling her mother about how she earned $20 by climbing a tree. Her mom responded, "Maria, they just wanted to see your panties!" Maria replied, "See Mom, I was smart, I took them off!"
yohel
A man goes to a bar and sees a fat girl dancing on a table. He walks over to her and says, "Wow, nice legs!" She is flattered and replies, "You really think so?" The man says, "Oh definitely! Most tables would have collapsed by now."
TheLaughFactory