Categories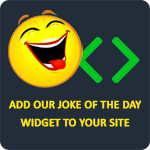 Q: Why doesn't Dracula have any friends?
A: Because he is a pain in the neck.
Anonymous
Yo momma is so fat her bellybutton gets home 15 minutes before she does.
Anonymous
Give a man a fish and he will eat for a day. Teach him how to fish and he will sit in a boat and drink beer all day.
TheLaughFactory
Q: How do Chinese people name their babies?
A: They throw them down the stairs to see what noise they make.
Anonymous
A black boy walks into the kitchen where his mother is baking and accidentally pulls the flour over onto his head. He turns to his mother and says, "Look Mama, I'm a white boy!" His mother smacks him and says, "Go tell your Daddy what you just said!" The boy finds his father and says, "Look Daddy, I'm a white boy!" His Daddy bends him over, spanks him, stands the boy back up, and says, "Now, what do you have to say for yourself?" The boy replies, "I've only been a white boy for five minutes and I already hate you black people!"
nghtvisn