Categories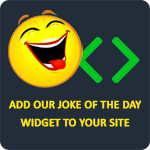 Your momma is so ugly she made One Direction go another direction.
Anonymous
Yo momma so stupid she stuck a battery up her ass and said, "I GOT THE POWER!"
GIovanni pinto ramos
Q: Why can't a blonde dial 911?
A: She can't find the eleven.
TheLaughFactory
Q: Did you hear about the new "divorced" Barbie doll in stores now?
A: It comes with all of Ken's stuff.
Anonymous
Yo momma is so fat when she sat on WalMart, she lowered the prices.
zacky