Categories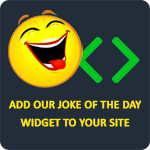 Jim: "Why are you crying?"
Bob: "I just got slapped in the face by a lady."
Jim: "What happened?"
Bob: "I was holding a photograph, but I dropped it and it fell underneath a woman's dress. I asked her, 'Excuse me, can you hold up your dress? I want to take a photo.'"
Anonymous
Having sex is like playing bridge. If you don't have a good partner, you'd better have a good hand.
Anonymous
Yo momma's so fat, that when she fell, no one was laughing but the ground was cracking up.
LaughFactory
A man is fishing and he catches a crocodile. The crocodile tells him, "Please let me go! I'll grant you any wish you desire." The man says, "Okay, I wish my penis could touch the ground." The crocodile then bites his legs off.
Anonymous
Roses are red.
Your blood is too.
You look like a monkey
And belong in a zoo.
Do not worry,
I'll be there too.
Not in the cage,
But laughing at you.
Anonymous