Categories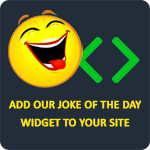 Yo momma's so fat, that when she fell, no one was laughing but the ground was cracking up.
LaughFactory
Wife: "I look fat. Can you give me a compliment?"
Husband: "You have perfect eyesight."
coloured pencils
Yo mama so black, I shot at her and the bullet came back and asked for a flashlight
Anonymous
Yo momma is so stupid she climbed over a glass wall to see what was on the other side.
Anonymous
What happens to a frog's car when it breaks down?
It gets toad away.
ZDW