Categories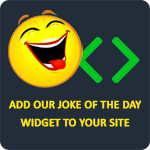 How do you blindfold a Chinese person? Put floss over their eyes.
kallen007
Wife: "In my dream, I saw you in a jewelry store and you bought me a diamond ring."
Husband: "I had the same dream and I saw your dad paying the bill."
Anonymous
A man kills a deer and takes it home to cook for dinner. Both he and his wife decide that they won't tell the kids what kind of meat it is, but will give them a clue and let them guess. The dad said, "Well it's what Mommy calls me sometimes." The little girl screamed to her brother, "Don't eat it. Its an asshole!
blackray
Yo momma is so stupid when an intruder broke into her house, she ran downstairs, dialed 9-1-1 on the microwave, and couldn't find the "CALL" button.
Anonymous
Yo momma's so fat, that when she fell, no one was laughing but the ground was cracking up.
LaughFactory