Categories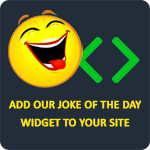 Yo momma's so fat, that when she fell, no one was laughing but the ground was cracking up.
LaughFactory
A man saw a lady with big breasts. He asked, "Excuse me, can I bite your breasts for $1000?" She agrees, so they go to a secluded corner. She opens her blouse and the man puts his face in her breasts for 10 minutes." Eventually the lady asks, "Aren't you gonna bite them?" He replies, "No, it's too expensive."
Alliah Anderson
Two blondes fell down a hole. One said, "It's dark in here isn't it?" The other replied, "I don't know; I can't see."
Anonymous
Yo momma is so stupid she brought a spoon to the super bowl.
Angel Stalone
How do you blindfold a Chinese person? Put floss over their eyes.
kallen007