Categories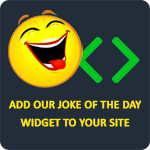 Q: Why did the dinosaur cross the road?
A: Chickens didn't exist yet.
Riki Relet
A black boy walks into the kitchen where his mother is baking and accidentally pulls the flour over onto his head. He turns to his mother and says, "Look Mama, I'm a white boy!" His mother smacks him and says, "Go tell your Daddy what you just said!" The boy finds his father and says, "Look Daddy, I'm a white boy!" His Daddy bends him over, spanks him, stands the boy back up, and says, "Now, what do you have to say for yourself?" The boy replies, "I've only been a white boy for five minutes and I already hate you black people!"
nghtvisn
Two blondes fell down a hole. One said, "It's dark in here isn't it?" The other replied, "I don't know; I can't see."
Anonymous
A lady comes home from her doctor's appointment grinning from ear to ear. Her husband asks, "Why are you so happy?" The wife says, "The doctor told me that for a forty-five year old woman, I have the breasts of a eighteen year old." "Oh yeah?" quipped her husband, "What did he say about your forty-five year old ass?" She said, "Your name never came up in the conversation."
Mark My Words
Reaching the end of a job interview, the Human Resources Officer asks a young engineer fresh out of the Massachusetts Institute of Technology, "And what starting salary are you looking for?" The engineer replies, "In the region of $125,000 a year, depending on the benefits package." The interviewer inquires, "Well, what would you say to a package of five weeks vacation, 14 paid holidays, full medical and dental, company matching retirement fund to 50% of salary, and a company car leased every two years, say, a red Corvette?" The engineer sits up straight and says, "Wow! Are you kidding?" The interviewer replies, "Yeah, but you started it."
lauren