Categories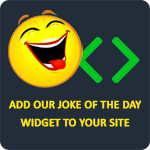 A teacher is teaching a class and she sees that Johnny isn't paying attention, so she asks him, "If there are three ducks sitting on a fence, and you shoot one, how many are left?" Johnny says, "None." The teacher asks, "Why?" Johnny says, "Because the shot scared them all off." The teacher says, "No, two, but I like how you're thinking." Johnny asks the teacher, "If you see three women walking out of an ice cream parlor, one is licking her ice cream, one is sucking her ice cream, and one is biting her ice cream, which one is married?" The teacher says, "The one sucking her ice cream." Johnny says, "No, the one with the wedding ring, but I like how you're thinking!"
rockabillyray
Yo momma is so stupid when an intruder broke into her house, she ran downstairs, dialed 9-1-1 on the microwave, and couldn't find the "CALL" button.
Anonymous
Q: How do Chinese people name their babies?
A: They throw them down the stairs to see what noise they make.
Anonymous
A blonde, a redhead, and a brunette were all lost in the desert. They found a lamp and rubbed it. A genie popped out and granted them each one wish. The redhead wished to be back home. Poof! She was back home. The brunette wished to be at home with her family. Poof! She was back home with her family. The blonde said, "Awwww, I wish my friends were here."
Donovan
A man is about to enter a meeting at work when he realizes that he forgot some important paperwork. He calls home so that his wife can retrieve them. The maid answers the phone and says that his wife is busy. He demands that the maid put his wife on the phone. The maid informs the man that his wife is in bed with the gardener. The man goes nuts, and offers the maid one million dollars to shoot them both. The maid agrees and he soon hears two gunshots. The maid returns to the phone and he asks her what happened. The maid says she shot his wife in bed and the gardener ran, so she shot him by the pool. The man says, "Pool??? Is this 555-4320???"
TheBaddboy