Categories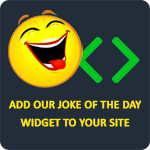 A teacher is teaching a class and she sees that Johnny isn't paying attention, so she asks him, "If there are three ducks sitting on a fence, and you shoot one, how many are left?" Johnny says, "None." The teacher asks, "Why?" Johnny says, "Because the shot scared them all off." The teacher says, "No, two, but I like how you're thinking." Johnny asks the teacher, "If you see three women walking out of an ice cream parlor, one is licking her ice cream, one is sucking her ice cream, and one is biting her ice cream, which one is married?" The teacher says, "The one sucking her ice cream." Johnny says, "No, the one with the wedding ring, but I like how you're thinking!"
rockabillyray
Two factory workers are talking. The woman says, "I can make the boss give me the day off." The man replies, "And how would you do that?" The woman says, "Just wait and see." She then hangs upside down from the ceiling. The boss comes in and says, "What are you doing?" The woman replies, "I'm a light bulb." The boss then says, "You've been working so much that you've gone crazy. I think you need to take the day off." The man starts to follow her and the boss says, "Where are you going?" The man says, "I'm going home, too. I can't work in the dark."
enilda78
A little girl and boy are fighting about the differences between the sexes, and which one is better. Finally, the boy drops his pants and says, "Here's something I have that you'll never have!" The little girl is pretty upset by this, since it is clearly true, and runs home crying. A while later, she comes running back with a smile on her face. She drops her pants and says, "My mommy says that with one of these, I can have as many of those as I want!"
Anonymous
A boy says to a girl, "So, sex at my place?" "Yeah!" "Okay, but I sleep in a bunk bed with my younger brother, and he thinks we're making sandwiches, so we have to have a code. Cheese means faster and tomato means harder, okay?" Later on the girl is yelling, "Cheese cheese, tomato tomato!" The younger brother says, "Stop making sandwiches! You're getting mayo all over my bed!"
jalvarez100
Yo momma's so stupid, she put two quarters in her ears and thought she was listening to 50 Cent.
marquez007