Categories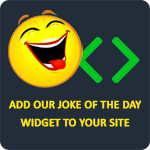 Q: Why did Barbie never get pregnant?
A: Ken always came in another box.
TheLaughFactory
An organization is like a tree full of monkeys, all on different limbs at different levels. The monkeys on top look down and see a tree full of smiling faces. The monkeys on the bottom look up and see nothing but assholes.
faranak67
Why are asprins white? Because they work!
ScottBackman
A black Jewish boy runs home from school one day and asks his father, "Daddy, am I more Jewish or more black?" The dad replies, "Why do you want to know, son?" "Because a kid at school is selling a bike for $50 and I want to know if I should talk him down to $40 or just steal it!"
Anonymous
Why do women make better soldiers? Because they can bleed for a week and not die.
srehak1