Categories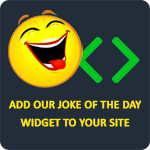 There was a blonde who just got sick and tired of all the blonde jokes. One evening, she went home and memorized all the state capitals. Back in the office the next day, some guy started telling a dumb blonde joke. She interrupted him with a shrill announcement, "I've had it up to here with these blonde jokes. I want you to know that this blonde went home last night and did something probably none of you could do. I memorized all the state capitals." One of the guys, of course, said, "I don't believe you. What is the capital of Nevada?" "N," she answered.
katmaxeykim
A husband and wife were driving through Louisiana. As they approached Natchitoches, they started arguing about the pronunciation of the town. They argued back and forth, then they stopped for lunch. At the counter, the husband asked the blonde waitress, "Before we order, could you please settle an argument for us? Would you please pronounce where we are very slowly?" She leaned over the counter and said, "Burrr-gerrr Kiiing."
Bill Mills
Q: What do a Christmas tree and a priest have in common?
A: Their balls are just for decoration.
TheLaughFactory
Wise man say, "Man who go to bed with itchy butt wake up with smelly finger."
NoOne
Two blondes fell down a hole. One said, "It's dark in here isn't it?" The other replied, "I don't know; I can't see."
Anonymous