Categories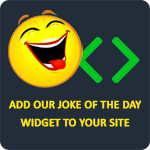 A bus full of housewives going on a picnic crashed with no survivors. Each husband cried for a week, but one husband continued for more than two weeks. When asked he replied miserably, "My wife missed the bus."
TheLaughFactory
Two blondes fell down a hole. One said, "It's dark in here isn't it?" The other replied, "I don't know; I can't see."
Anonymous
Q: How do Chinese people name their babies?
A: They throw them down the stairs to see what noise they make.
Anonymous
How are women and tornadoes alike? They both moan like hell when they come, and take the house when they leave.
JayDee917
A black Jewish boy runs home from school one day and asks his father, "Daddy, am I more Jewish or more black?" The dad replies, "Why do you want to know, son?" "Because a kid at school is selling a bike for $50 and I want to know if I should talk him down to $40 or just steal it!"
Anonymous