Categories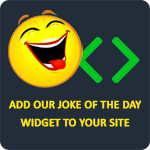 There was a blonde, a redhead, and a brunette. They were all trapped on an island and the nearest shore was 50 miles away. The redhead swam trying to make it to the other shore she swam 15 miles, drowned, and died. The brunette swam 24 miles, drowned, and died. The blonde swam 25 miles, got tired, and swam back.
Donovan
A boy says to a girl, "So, sex at my place?" "Yeah!" "Okay, but I sleep in a bunk bed with my younger brother, and he thinks we're making sandwiches, so we have to have a code. Cheese means faster and tomato means harder, okay?" Later on the girl is yelling, "Cheese cheese, tomato tomato!" The younger brother says, "Stop making sandwiches! You're getting mayo all over my bed!"
jalvarez100
Brunette: "Where were you born?"
Blonde: "California."
Brunette: "Which part?"
Blonde: "All of me."
Laughat28
After picking her son up from school one day, the mother asks him what he did at school. The kid replies, "I had sex with my teacher." She gets so mad that when they get home, she orders him to go straight to his room. When the father returns home that evening, the mother angrily tells him the news of what their son had done. As the father hears the news, a huge grin spreads across his face. He walks to his son's room and asks him what happened at school, the son tells him, "I had sex with my teacher." The father tells the boy that he is so proud of him, and he is going to reward him with the bike he has been asking for. On the way to the store, the dad asks his son if he would like to ride his new bike home. His son responds, "No thanks Dad, my butt still hurts."
MISSDIONE02
Q: What is the tallest building in the entire world?
A: The library, because it has so many stories.
Razor