Categories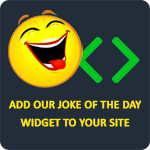 A teacher wanted to teach her students about self-esteem, so she asked anyone who thought they were stupid to stand up. One kid stood up and the teacher was surprised. She didn't think anyone would stand up so she asked him, "Why did you stand up?" He answered, "I didn't want to leave you standing up by yourself."
ronald34
Little Johnny came in from the backyard sobbing. His mother asked "What's the matter?" "Dad was fixing the fence and hit his thumb with the hammer," he said through his tears. "That's not so serious," his mother said, "and a big boy like you shouldn't cry about that. Why didn't you just laugh?" "I did!" cried Johnny.
ldycre8or
A trucker who has been out on the road for two months stops at a brothel outside Atlanta. He walks straight up to the Madam, drops down $500 and says, "I want your ugliest woman and a grilled cheese sandwich!" The Madam is astonished. "But sir, for that kind of money you could have one of my prettiest ladies and a three-course meal." The trucker replies, "Listen darlin', I'm not horny – I'm just homesick."
rchavez2
A man was having premature ejaculation problems so he went to the doctor. The doctor said, "When you feel like you are getting ready to ejaculate, try startling yourself." That same day the man went to the store and bought himself a starter pistol and ran home to his wife. That night the two were having sex and found themselves in the 69 position. The man felt the urge to ejaculate and fired the starter pistol. The next day he went back to the doctor who asked how it went. The man answered, "Not well. When I fired the pistol, my wife pooped on my face, bit three inches off my penis, and my neighbor came out of the closet with his hands in the air."
Oure
A guy took his blonde girlfriend to her first football game. They had great seats right behind their team's bench. After the game, he asked her how she liked the experience. "Oh, I really liked it," she replied, "especially the tight pants and all the big muscles, but I just couldn't understand why they were killing each other over 25 cents." Dumbfounded, her date asked, "What do you mean?" "Well, they flipped a coin, one team got it, and then for the rest of the game, all they kept screaming was, 'Get the quarterback! Get the quarterback!' I'm like, hello? It's only 25 cents!"
laurieleebrown