Categories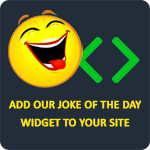 Yo momma's so fat, she got baptized at Sea World.
LaughFactory
A woman gets on a bus with her baby. The bus driver says, "That's the ugliest baby that I've ever seen. Ugh!" The woman goes to the rear of the bus and sits down, fuming. She says to a man next to her, "The driver just insulted me!" The man says, "You go right up there and tell him off – go ahead, I'll hold your monkey for you."
avre1
A teacher wanted to teach her students about self-esteem, so she asked anyone who thought they were stupid to stand up. One kid stood up and the teacher was surprised. She didn't think anyone would stand up so she asked him, "Why did you stand up?" He answered, "I didn't want to leave you standing up by yourself."
ronald34
A husband exclaims to his wife one day, "Your butt is getting really big. It's bigger than the BBQ grill!" Later that night in bed, the husband makes some advances towards his wife who completely brushes him off. "What's wrong?" he asks. She answers, "Do you really think I'm going to fire up this big-ass grill for one little weenie?"
Anonymous
Q: Why can't a blonde dial 911?
A: She can't find the eleven.
TheLaughFactory