Categories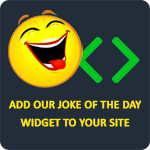 Chuck Norris got shot. We are now in the hospital, where the bullet is in critical condition.
Anonymous
A woman gets on a bus with her baby. The bus driver says, "That's the ugliest baby that I've ever seen. Ugh!" The woman goes to the rear of the bus and sits down, fuming. She says to a man next to her, "The driver just insulted me!" The man says, "You go right up there and tell him off – go ahead, I'll hold your monkey for you."
avre1
How do you starve a black person? Put their food stamp card under their workboots!
Anonymous
Yo momma's so fat, that when she fell, no one was laughing but the ground was cracking up.
LaughFactory
A bride tells her husband, "Honey, you know I'm a virgin and I don't know anything about sex. Can you explain it to me first?" "Okay, sweetheart. Putting it simply, we will call your private place 'the prison' and call my private thing 'the prisoner'. So what we do is put the prisoner in the prison." And they made love for the first time and the husband was smiling with satisfaction. Nudging him, his bride giggles, "Honey the prisoner seems to have escaped." Turning on his side, he smiles and says, "Then we will have to re-imprison him." After the second time, the bride says, "Honey, the prisoner is out again!" The husband rises to the occasion and they made love again. The bride again says, "Honey, the prisoner escaped again," to which the husband yelled, "Hey, it's not a life sentence!!!"
MrsChinchilla