Categories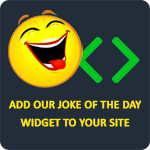 Your Halloween costume came in the mail today. I opened it. It was a rooster mask and a bag of lollipops. Going as a c*ck sucker again!?
jewelzee86
Q: What kind of candy do Indians give out on Halloween?
A: Dots.
Tyler Harrison
Yo momma's so stupid, she put two quarters in her ears and thought she was listening to 50 Cent.
marquez007
As an airplane is about to crash, a female passenger jumps up frantically and announces, "If I'm going to die, I want to die feeling like a woman." She removes all her clothing and asks, "Is there someone on this plane who is man enough to make me feel like a woman?" A man stands up, removes his shirt and says, "Here, iron this!".
cdiesel1208
Yo momma is so fat that Dora can't even explore her!
Haydenjr1