Categories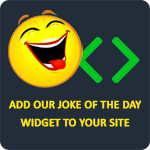 A teacher wanted to teach her students about self-esteem, so she asked anyone who thought they were stupid to stand up. One kid stood up and the teacher was surprised. She didn't think anyone would stand up so she asked him, "Why did you stand up?" He answered, "I didn't want to leave you standing up by yourself."
ronald34
Q: What did the duck say when he bought lipstick?
A: "Put it on my bill."
TheLaughFactory
I asked a Chinese girl for her number. She said, "Sex! Sex! Sex! Free sex tonight!" I said, "Wow!" Then her friend said, "She means 666-3629."
Anonymous
How do you get the little black kids to stop jumping on the bed? Put Velcro on the ceiling. How do you get them down? Tell the Mexican kids it's a piñata.
b_demarco
Q: Why are most hurricanes named after women?
A: Because when they come they are wet and wild and when they leave they take your house and your car.
Anonymous