Categories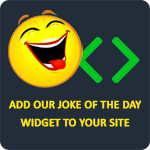 A little boy wants a bike for Christmas really badly, but the kid is a real bad seed, and he knows it. He writes a letter to Jesus. "Dear Jesus, if I get a bike for Christmas, I'll be good for a whole week." He thinks about it, crosses out what he wrote, and says, "I can't be good for a whole week, I'll be good for five days." He crosses that out and writes, "I'll be good for four days." Then he thinks again and says, "Can't do that." He gets down to one day and says, "I can't even be good for a day." Then in frustration, goes in his mother's room and get the statue of the Virgin Mary, wraps it up in a blanket, puts it in a paper bag, throws it in the closet and says, "Dear Jesus, if I don't get a bike for Christmas, you'll never see your mother again!"
dollydew22
Yo momma's so fat, she wore a black bathing suit to the pool and everyone yelled "oil spill!"
LaughFactory
A black Jewish boy runs home from school one day and asks his father, "Daddy, am I more Jewish or more black?" The dad replies, "Why do you want to know, son?" "Because a kid at school is selling a bike for $50 and I want to know if I should talk him down to $40 or just steal it!"
Anonymous
A drunk staggers into a Catholic Church, enters a confessional booth, sits down, but says nothing. The Priest coughs a few times to get his attention, but the drunk continues to sit there. Finally, the Priest pounds three times on the wall. The drunk mumbles, "Ain't no use knockin'! There's no paper on this side either!"
33KJinLA
A young woman was taking golf lessons and had just started playing her first round of golf when she suffered a bee sting. Her pain was so intense that she decided to return to the clubhouse for medical assistance. The golf pro saw her heading back and said, "You are back early, what's wrong?" "I was stung by a bee!" she said. "Where?" he asked. "Between the first and second hole." she replied. He nodded and said, "Your stance is far too wide."
Anonymous