Categories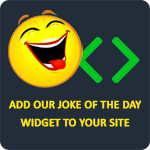 A blonde, out of money, and down on her luck after buying air at a real bargain, needed money desperately. To raise cash, she decided to kidnap a child and hold him for ransom. She went to the local playground, grabbed a kid randomly, took her behind a building, and told her, "I've kidnapped you." She then wrote a big note saying, "I've kidnapped your kid. Tomorrow morning, put $10,000 in a paper bag and leave it under the apple tree next to the slides, on the south side of the playground. Signed, A blonde." The blonde then pinned the note to the kid's shirt and sent him home to show it to his parents. The next morning, the blonde checked, and sure enough, a paper bag was sitting beneath the apple tree. The blonde looked in the bag and found the $10,000 with a note that said, "How could you do this to a fellow blonde?"
flypelican
A teacher wanted to teach her students about self-esteem, so she asked anyone who thought they were stupid to stand up. One kid stood up and the teacher was surprised. She didn't think anyone would stand up so she asked him, "Why did you stand up?" He answered, "I didn't want to leave you standing up by yourself."
ronald34
Whenever your ex says, "You'll never find someone like me," the answer to that is, "That's the point."
Ascelyn
A man goes to a bar and sees a fat girl dancing on a table. He walks over to her and says, "Wow, nice legs!" She is flattered and replies, "You really think so?" The man says, "Oh definitely! Most tables would have collapsed by now."
TheLaughFactory
Why are asprins white? Because they work!
ScottBackman