Categories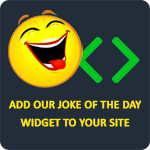 A little girl and boy are fighting about the differences between the sexes, and which one is better. Finally, the boy drops his pants and says, "Here's something I have that you'll never have!" The little girl is pretty upset by this, since it is clearly true, and runs home crying. A while later, she comes running back with a smile on her face. She drops her pants and says, "My mommy says that with one of these, I can have as many of those as I want!"
Anonymous
Q: What do you call a Filipino contortionist?
A: A Manila folder.
Mark My Words
Your momma is so ugly she made One Direction go another direction.
Anonymous
Whenever your ex says, "You'll never find someone like me," the answer to that is, "That's the point."
Ascelyn
Sarah goes to school, and the teacher says, "Today we are going to learn multi-syllable words, class. Does anybody have an example of a multi-syllable word?" Sarah waves her hand, "Me, Miss Rogers, me, me!" Miss Rogers says, "All right, Sarah, what is your multi-syllable word?" Sarah says, "Mas-tur-bate." Miss Rogers smiles and says, "Wow, Sarah, that's a mouthful." Sarah says, "No, Miss Rogers, you're thinking of a blowjob."
Rodderiqus11