Categories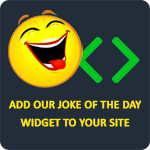 Q: What stays in one corner but travels around the world?
A: A stamp.
Maja Zajac
Knock, knock.
Who's there?
Cows go.
Cows go who?
No, cows go moo!
Anonymous
A boy says to a girl, "So, sex at my place?" "Yeah!" "Okay, but I sleep in a bunk bed with my younger brother, and he thinks we're making sandwiches, so we have to have a code. Cheese means faster and tomato means harder, okay?" Later on the girl is yelling, "Cheese cheese, tomato tomato!" The younger brother says, "Stop making sandwiches! You're getting mayo all over my bed!"
jalvarez100
Yo momma is so stupid when an intruder broke into her house, she ran downstairs, dialed 9-1-1 on the microwave, and couldn't find the "CALL" button.
Anonymous
A woman gets on a bus with her baby. The bus driver says, "That's the ugliest baby that I've ever seen. Ugh!" The woman goes to the rear of the bus and sits down, fuming. She says to a man next to her, "The driver just insulted me!" The man says, "You go right up there and tell him off – go ahead, I'll hold your monkey for you."
avre1