Categories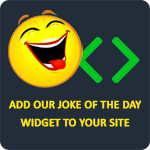 Q: What did the duck say when he bought lipstick?
A: "Put it on my bill."
TheLaughFactory
Yo momma is so stupid she brought a spoon to the super bowl.
Angel Stalone
Yo momma's so fat she needs cheat codes for Wii Fit.
joshdavis1991
Yo momma is so fat that Dora can't even explore her!
Haydenjr1
A man kills a deer and takes it home to cook for dinner. Both he and his wife decide that they won't tell the kids what kind of meat it is, but will give them a clue and let them guess. The dad said, "Well it's what Mommy calls me sometimes." The little girl screamed to her brother, "Don't eat it. Its an asshole!
blackray