Categories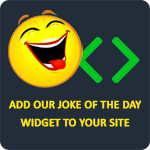 Why are asprins white? Because they work!
ScottBackman
Q: How do you stop a Mexican tank?
A: Shoot the people pushing it.
Lincoln Draper
Two students were arguing when their teacher entered the classroom. The teacher says, "Why are you arguing?" One boy answers, "We found a ten dollar bill and decided to give it to whoever tells the biggest lie." "You should be ashamed of yourselves," said the teacher, "When I was your age I didn't even know what a lie was." The boys gave the ten dollars to the teacher.
Saarah jabbar<3
Q: What's the difference between Usain Bolt and Hitler?
A: Usain Bolt can finish a race.
Broom
A little girl and boy are fighting about the differences between the sexes, and which one is better. Finally, the boy drops his pants and says, "Here's something I have that you'll never have!" The little girl is pretty upset by this, since it is clearly true, and runs home crying. A while later, she comes running back with a smile on her face. She drops her pants and says, "My mommy says that with one of these, I can have as many of those as I want!"
Anonymous