Categories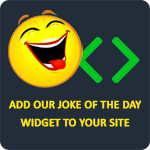 Q: How do Chinese people name their babies?
A: They throw them down the stairs to see what noise they make.
Anonymous
A teacher wanted to teach her students about self-esteem, so she asked anyone who thought they were stupid to stand up. One kid stood up and the teacher was surprised. She didn't think anyone would stand up so she asked him, "Why did you stand up?" He answered, "I didn't want to leave you standing up by yourself."
ronald34
A man went to his dentist because he feels something wrong in his mouth. The dentist examines him and says, "That new upper plate I put in for you six months ago is eroding. What have you been eating?" The man replies, "All I can think of is that about four months ago my wife made some asparagus and put some stuff on it that was delicious - Hollandaise sauce. I loved it so much I now put it on everything --meat, toast, fish, vegtables, everything." "Well," says the dentist, "that's probably the problem. Hollandaise sauce is made with lots of lemon juice, which is highly corrosive. It's eaten away your upper plate. I'll make you a new plate, and this time use chrome." "Why chrome?" asks the patient. To which the dentist replies, "It's simple. Everyone knows that there's no plate like chrome for the Hollandaise!"
heatherburrage
Reaching the end of a job interview, the Human Resources Officer asks a young engineer fresh out of the Massachusetts Institute of Technology, "And what starting salary are you looking for?" The engineer replies, "In the region of $125,000 a year, depending on the benefits package." The interviewer inquires, "Well, what would you say to a package of five weeks vacation, 14 paid holidays, full medical and dental, company matching retirement fund to 50% of salary, and a company car leased every two years, say, a red Corvette?" The engineer sits up straight and says, "Wow! Are you kidding?" The interviewer replies, "Yeah, but you started it."
lauren
A lady goes to the doctor and complains that her husband is losing interest in sex. The doctor gives her a pill, but warns her that it's still experimental. He tells her to slip it into his mashed potatoes at dinner, so that night, she does just that. About a week later, she's back at the doctor, where she says, "Doc, the pill worked great! I put it in the potatoes like you said! It wasn't five minutes later that he jumped up, raked all the food and dishes onto the floor, grabbed me, ripped all my clothes off, and ravaged me right there on the table!" The doctor says, "I'm sorry, we didn't realize the pill was that strong! The foundation will be glad to pay for any damages." "Nah," she says, "that's okay. We're never going back to that restaurant anyway."
Mariah