Categories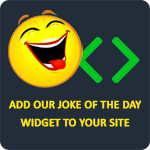 Q: What happens when you cross a shark with a cow?
A: I don't know but I wouldn't milk it.
Ahadito
Q: Why do birds fly South for the winter?
A: It's too far to walk.
TheLaughFactory
Two caged circus lions break free and corner a clown in his dressing room. One lion says to the other, "Forget it, those things taste funny."
Anonymous
Q: What's the difference between a cat and a complex sentence?
A: A cat has claws at the end of its paws and a complex sentence has a pause at the end of its clause.
Anonymous
Q: Why do seagulls fly over the sea? A: Because if they flew over the bay they'd be bagels.
Anonymous