Categories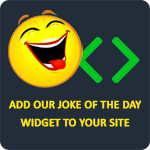 What is green and red and goes 100 miles an hour? A frog in a blender.
Anonymous
Why did the chicken cross the road? To get to the other side. Why did the farmer cross the road? To get his dick out of the chicken!
Anonymous
Why is turtle wax so expensive? Because they have such small ears.
joeromero70
What did the farmer get when he crossed a centipede with a Turkey? 100 Drumsticks.
Susan7777
Jason gets off the elevator on the 50th floor and nervously knocks on his blind date's door. She opens it and is very beautiful and charming. "I'll be ready in a few minutes," she says. "Why don't you play with Spot, my dog, while you're waiting? He does wonderful tricks. He rolls over, shakes hands, sits up, and if you make a hoop with your arms, he'll jump through." The dog follows Jason onto the balcony and starts rolling over. John makes a hoop with his arms and Spot jumps through, over the balcony railing. Just then, Jason's date walks out. "Isn't Spot the cutest, happiest dog you've ever seen?" "To tell the the truth, " he replies, "Spot seemed a little depressed to me!"
TerrellMoses