Categories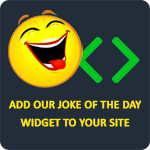 A husband suspected his wife was cheating on him. He explained his situation to a pet shop owner who replied, "I have a parrot that will let you know daily what goes on in your house. The bird has no legs, so he holds onto his perch with his penis." Reluctantly, the husband brought the bird home. At the end of the first day, the man asked the bird, "Did anything happen today?" The parrot said, "Yes, the milk man came over." The man asked, "What did he do with my wife?" The bird said, "I don't know; I got hard and fell."
luis
Redhead: "You ever smelled moth balls?"
Blonde: "Yes, I think they smell good."
Redhead: "Wow, I can't believe you got your nose between those tiny legs."
Anonymous
Knock, knock.
Who's there?
Cows go.
Cows go who?
No, cows go moo!
Anonymous
Two nuns from Ireland come to tour New York City. Before they come, they hear that Americans eat dogs, so they both agree to try it when they arrive. As they're walking around New York, they hear, "Hot Dogs! Get your hot dogs!" They rush over to get one! As the first nun opens hers, her face turns white and she gasps, "What part did you get?!"
mway0030
Q: Why did the pig leave the costume party?
A: Because everyone thought he was a boar.
Anonymous