Categories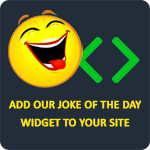 Q: Why do centipedes have 100 legs?
A: So they can walk.
Anonymous
What did the farmer get when he crossed a centipede with a Turkey? 100 Drumsticks.
Susan7777
Q: What do you call an alligator wearing a vest?
A: An investigator.
Anonymous
Q: What's the difference between a cat and a complex sentence?
A: A cat has claws at the end of its paws and a complex sentence has a pause at the end of its clause.
Anonymous
Q: What happens when you cross a shark with a cow?
A: I don't know but I wouldn't milk it.
Ahadito