Categories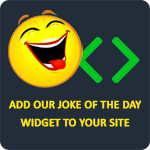 Yo mama so stupid, she tried to save a fish from drowning.
becky.awsum
A blind man walks into a store with his seeing eye dog. All of a sudden, he picks up the leash and begins swinging the dog over his head. The manager runs up to the man and asks, "What are you doing?!!" The blind man replies, "Just looking around."
TheLaughFactory
Q: Why cant you hear a pterodactyl pee? A: Because the "p" is silent.
Anonymous
What do you call a dog with no legs? It does not matter, it's not going to come
NENO
What did Santa call his reindeer that couldn't fly? Dinner.
amandadean526