Categories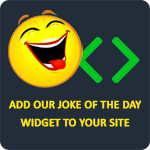 What did the elephant say to the naked man? "Cute, cute, but can it pick up peanuts?"
tztmama60
Did you know that dolphins are so smart that within a few weeks of captivity, they can train people to stand on the edge of their pool and throw them fish?
Anonymous
Q: What kind of key opens a banana?
A: A monkey.
neshika
Q: If you were forced to go through one of the following doors, which door do you go through with 100 % certainty you'd stay alive: a door with a man with a gun behind it, a door with a tiger who hasn't eaten in 7 years behind it, or a door with an electrical chair behind it?
A: The one with the tiger behind it, because if it hasn't eaten in 7 years it's dead.
Kroft
A farmer and his brand new bride are riding home in a wagon pulled by a team of horses, when the older horse stumbles. The farmer says, "That's once." A little further along, the horse stumbles again. The farmer says, "That's twice." When the old horse stumbles again, the farmer quietly reaches under his seat, pulls out a shotgun, and shoots the horse. His brand new bride yells, "That was an awful thing to do!" The farmer says, "That's once."
Anonymous