Categories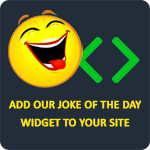 Q: What time is it when a elephant sits on a fence?
A: Time to fix the fence.
Anonymous
A man's big rottweiler has been losing its vision, so the owner brings the dog to the vet. The veterinarian picks the dog up and says, "I will have to put him down." The owner asks, "Why? Because he's blind?" The vet replies, "No, he's heavy. I need to put him down."
arandownes
Q: What says "Eoo?"
A: A cow with no lips.
joke bank
Q: What do you call a duck that steals?
A: A Robber Duck.
SAM&THEYSEE;+KARMA
What's the difference between deer nuts and beer nuts? Beer nuts are $1.50 and deer nuts are under a buck.
wmancini