Categories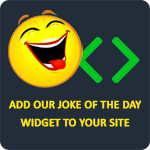 Why did the dog sit in the shade? Because he didn't want to be a hot dog!
karrie76
Q: Why don't Batman and Robin go fishing?

A: Because Robin eats all the worms.
My English teacher
Q: Did you hear about the promiscuous reptile?
A: It got gator AIDS.
Philip S
What did the chicken say when it got to the library? "Book book book book book book book..."
kg2012
A guy hears a knock on his door. He opens the door, sees a snail, then picks it up and chucks it as far as possible. Three years later, he hears a knock on his door, opens the door, and sees the same snail. The snail says, "Hey man, what did you do that for?!"
crazyalexian