Categories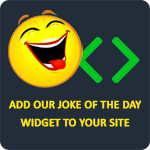 Yo mama so stupid, she tried to save a fish from drowning.
becky.awsum
Q: Why shouldn't you have a gay monkey and a gay squirrel in the same tree?
A: Because the monkey will go bananas over the squirrel's nuts.
TheLaughFactory
Q: Why cant you hear a pterodactyl pee? A: Because the "p" is silent.
Anonymous
Why do hummingbirds hum? Because they don't know the words.
typical joker
A blind man walks into a store with his seeing eye dog. All of a sudden, he picks up the leash and begins swinging the dog over his head. The manager runs up to the man and asks, "What are you doing?!!" The blind man replies, "Just looking around."
TheLaughFactory