Categories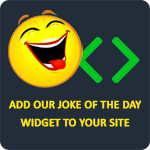 Q: What's the importance of capitalization?
A: You can either help your Uncle Jack off a horse or help your uncle jack off a horse.
The Fella Over There With The Hella Good Hair
What do you do with a dog that doesn't have any legs? You take him for a drag.
Anonymous
What did the dog say to the hot dog bun? "Are you pure bred?"
tigerfire
A husband suspected his wife was cheating on him. He explained his situation to a pet shop owner who replied, "I have a parrot that will let you know daily what goes on in your house. The bird has no legs, so he holds onto his perch with his penis." Reluctantly, the husband brought the bird home. At the end of the first day, the man asked the bird, "Did anything happen today?" The parrot said, "Yes, the milk man came over." The man asked, "What did he do with my wife?" The bird said, "I don't know; I got hard and fell."
luis
Yo mama so stupid, she tried to save a fish from drowning.
becky.awsum