Categories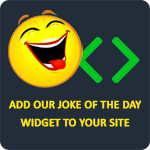 Q: Why does a chicken coop only have two doors?
A: Because if it had four, it would be chicken sedan.
TheLaughFactory
A man rushes his limp dog to the veterinarian. The doctor pronounces the dog dead. The agitated man demands a second opinion. The vet goes into the back room and comes out with a cat. The cat sniffs the body and meows. The vet says, "I'm sorry, but the cat thinks that your dog is dead, too." The man is still unwilling to accept that his dog is dead. The vet brings in a black Labrador. The lab sniffs the body and barks. The vet says, "I'm sorry, but the lab thinks your dog is dead, too." The man finally resigns to the diagnosis and asks how much he owes. The vet answers, "$650." "$650 to tell me my dog is dead?" exclaims the man. "Well," the vet replies, "I would only have charged you $50 for my initial diagnosis. The additional $600 is for the cat scan and lab tests."
ebaquino
What did the doctor say when a pony came in complaining about a sore throat? "I know what's wrong here; you're just a little hoarse!"
Torybarton
Q: How do you capture a polar bear? A: You dig a hole in the snow and set peas around it. When the bear comes to take a pea you kick it in the ice hole
Fevedaddy
What do you get when you cross an elephant and a rhino? Ell-if-I-no (Hell if I know).
Anonymous