Categories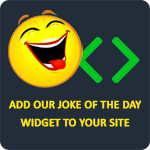 Q: What does a clam do on its birthday? A: Shellabrate!
angelina
Did you know that dolphins are so smart that within a few weeks of captivity, they can train people to stand on the edge of their pool and throw them fish?
Anonymous
What did the chicken say when it got to the library? "Book book book book book book book..."
kg2012
A camel and an elephant meet. The elephant says, "Why are your boobs on your boobs on your back?" The camel responds, "You're one to talk, you have a d*ck on your face!"
goddagsverige
Why did the turkey cross the road? Because he wasn't a chicken.
bob