Categories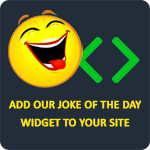 Teacher: "I asked you to draw a cow and grass, but I only see a cow. Where is grass?"
Student: "The cow ate the grass, sir."
Anonymous
Q: Why did the duck go to jail?
A: Because he got caught selling quack.
Anonymous
Q: What do you call a 3 legged donkey?
A: A wonkey.
Anonymous
Q: Why does a chicken coop only have two doors?
A: Because if it had four, it would be chicken sedan.
TheLaughFactory
What did the doctor say when a pony came in complaining about a sore throat? "I know what's wrong here; you're just a little hoarse!"
Torybarton