Categories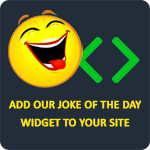 Yo mama so fat the bears have to hide their food from her when she goes camping.
Anonymous
Q: What do you call a rabbit that has fleas?
A: Bugs bunny.
sonic luaghs120
Q: What do elephants use for tampons?
A: Sheep.
mgrector
Q: Why did the duck go to jail?
A: Because he got caught selling quack.
Anonymous
Why are sharks mostly salt water creatures? Because pepper would make them sneeze.
Repor9