Categories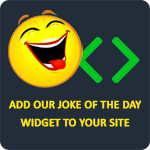 Q: Why did the cow cross the road?

A: To get to the udder side.
Anonymous
Q: Where do sharks go on their holidays?
A: Finland.
Anonymous
I drove my sister's guinea pig to the vet this morning. My new golf clubs work great!
Anonymous
With sufficient thrust, pigs fly just fine.
Anonymous
What's the difference between beer nuts and deer nuts? Beer nuts are fifty cents. Deer nuts are just under a buck.
strubin