Categories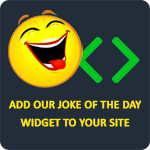 A baby snake asked it's mom, "Mommy are we poisonous?" The mother snake responded, "Yes honey, but why do you want to know?" The baby snake responded, "Because I just bit myself..."
nimabeni
What do you get when you cross an elephant and a rhino? Ell-if-I-no (Hell if I know).
Anonymous
Q: Why do the French eat snails?
A: They don't like fast food.
Anonymous
Waiter: "Do you want any dessert?"
Teddy Bear: "No Thanks. I'm Stuffed!"
Anonymous
Q: A cowboy left Montana to go to Texas on Friday and came back on Friday. How did he do it?
A: He named his horse Friday.
Anonymous