Categories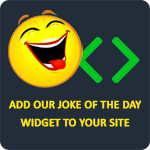 Q: What did the spider do on the computer?
A: Made a website!
Anonymous
Q: What happens when you cross a shark with a cow?
A: I don't know but I wouldn't milk it.
Ahadito
What's invisible and smells like carrots? Rabbit farts.
garychatterton
Q: Why do the French eat snails?
A: They don't like fast food.
Anonymous
Waiter: "Do you want any dessert?"
Teddy Bear: "No Thanks. I'm Stuffed!"
Anonymous