Categories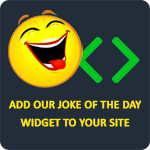 Why is turtle wax so expensive? Because they have such small ears.
joeromero70
Two nuns from Ireland come to tour New York City. Before they come, they hear that Americans eat dogs, so they both agree to try it when they arrive. As they're walking around New York, they hear, "Hot Dogs! Get your hot dogs!" They rush over to get one! As the first nun opens hers, her face turns white and she gasps, "What part did you get?!"
mway0030
Q: What does a clam do on its birthday? A: Shellabrate!
angelina
Did you know that dolphins are so smart that within a few weeks of captivity, they can train people to stand on the edge of their pool and throw them fish?
Anonymous
What did the farmer get when he crossed a centipede with a Turkey? 100 Drumsticks.
Susan7777