Categories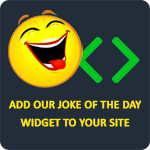 Q: What does a clam do on its birthday? A: Shellabrate!
angelina
Did you know that dolphins are so smart that within a few weeks of captivity, they can train people to stand on the edge of their pool and throw them fish?
Anonymous
What did the fish say when he ran into a wall? Dam.
ink123
What did the farmer get when he crossed a centipede with a Turkey? 100 Drumsticks.
Susan7777
How can you tell which end of a worm is which? Tickle it in the middle and see which end smiles.
Rubym8