Categories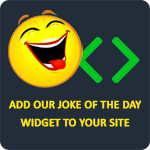 Q: Why do centipedes have 100 legs?
A: So they can walk.
Anonymous
Q: Why did the pig leave the costume party?
A: Because everyone thought he was a boar.
Anonymous
Q: What did the spider do on the computer?
A: Made a website!
Anonymous
Why does a squirrel swim on its back? To keep its nuts dry!
LusciousLiz333
Two nuns from Ireland come to tour New York City. Before they come, they hear that Americans eat dogs, so they both agree to try it when they arrive. As they're walking around New York, they hear, "Hot Dogs! Get your hot dogs!" They rush over to get one! As the first nun opens hers, her face turns white and she gasps, "What part did you get?!"
mway0030