Categories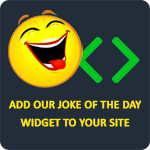 Q: What did the spider do on the computer?
A: Made a website!
Anonymous
Q: What's the importance of capitalization?
A: You can either help your Uncle Jack off a horse or help your uncle jack off a horse.
The Fella Over There With The Hella Good Hair
Q: Why do the French eat snails?
A: They don't like fast food.
Anonymous
Q: What did the judge say when a skunk walked into the courtroom?
A: "Odor in the court!"
jonpingel
A baby snake asked it's mom, "Mommy are we poisonous?" The mother snake responded, "Yes honey, but why do you want to know?" The baby snake responded, "Because I just bit myself..."
nimabeni