Categories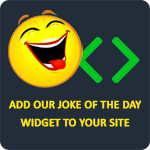 Tired of constant blonde jokes, a blonde dyes her hair brown. She then goes for a drive in the country and sees a shepherd herding his sheep across the road.

"Hey, shepherd, if I guess how many sheep are here, can I keep one?"

The shepherd is puzzled but agrees. She blurts out "352!"

He is stunned but keeps his word and allows her to pick a sheep.

"I'll take this one," she says proudly. "It's the cutest!"

"Hey lady," says the shepherd, "If I guess your real hair color, can I have my dog back?"
A Brunette
What did the blonde say when she found out she was pregnant? I wonder if it's mine.
debbiehoohoo
A blonde, a brunette, and a redhead are running from the police. They run into an old barn and hide in potato sacks. The officer chasing them walks into the barn looking for them. He kicks the first sack with the redhead inside and the redhead says, "Woof woof!" The cop thinks it's a dog, so he walks to the next one. He kicks the second bag with the brunette, and she says, "Meow meow!" The cop believes it's a cat and moves on. He kicks the third bag with the blonde, and the blonde yells, "Potato potato!"
Anonymous
A blonde is overweight so her doctor puts her on a diet. "I want you to eat regularly for two days, then skip a day and repeat for two weeks and you'll lose at least five pounds." When the blonde returns, she's lost nearly 20 pounds. The doctor exclaims, "That's amazing! Did you follow my diet?" The blonde nods. "I thought I was going to drop dead every third day from all the skipping!"
Rhys
What do you call a blonde with a brain? A golden retriever.
Anonymous