Categories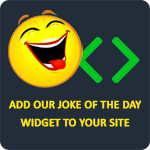 Jesus walks into a inn, hands the innkeeper three nails, and says, "Can you put me up for the night?"
william the bloody
My girlfriend called me a pedophile; that's a big word for a nine year old.
Anonymous
Have you heard? Michael Jackson's last wish was that his body be turned into Legos. So little kids can play with him. It turns out this wish hasn't been difficult to implement, as his body was already 99% plastic.
dolpn26
Q: Why does Micheal Jackson like twenty six year olds?
A: Because there's twenty of them.
eric
Why is it that skinny men like fat women? Because they need warmth in winter and shade in summer.
ADRIANA89