Categories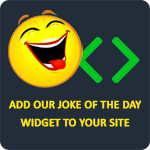 What's black, white, and red all over? A nun on her period.
Kyle court
Why did Hitler kill himself? Because he saw his gas bill.
Anonymous
Well, I was just thinking about all the possible things that could make the new president comfortable in the White House. Putting graffiti on the walls of the White House that says, "Cheney was here," or changing the president's theme from "Hail to the Chief," to the Jeffersons' show's theme song, "We're moving on up."
peter5150
Q: What do you call a lady that is stuck to a lamppost?
A: A lamppost lady.
Anonymous
What's the difference between a pizza pie and a Puerto Rican? A pizza pie can feed a family of eight.
LgLopez84