Categories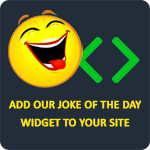 My girlfriend called me a pedophile; that's a big word for a nine year old.
Anonymous
Ever seen a blind man swim? He probably hasn't either.
alycatnme
Q: How do you start a rave in Africa? A: Staple toast to the ceiling.
Anonymous
Q: How do they know that Paul Walker had dandruff?
A: They found his head and shoulders in the glove box.
Rachel Miller
Q: Why does Micheal Jackson like twenty six year olds?
A: Because there's twenty of them.
eric