Categories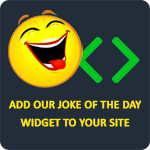 My girlfriend called me a pedophile; that's a big word for a nine year old.
Anonymous
What's black, white, and red all over? A nun on her period.
Kyle court
Q: What did the cannibal do after dumping his girlfriend?
A: He wiped his bum.
That Wright
Q: In a circle of lesbians, how can you tell which one is the toughest and roughest?
A: She's the one who rolls her own tampons and kick-starts her vibrator.
Mark My Words
What's the difference between a pizza pie and a Puerto Rican? A pizza pie can feed a family of eight.
LgLopez84