Categories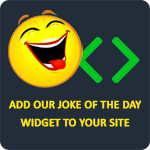 Q: How do they know that Paul Walker had dandruff?
A: They found his head and shoulders in the glove box.
Rachel Miller
Q: How do you start a rave in Africa? A: Staple toast to the ceiling.
Anonymous
Ever seen a blind man swim? He probably hasn't either.
alycatnme
Q: What do you do when an epileptic has a seizure in the bath tub?
A: Throw in some laundry.
Mark My Words
What do you call a bunch of black people inside a school bus? A rotten banana!
ctycm