Categories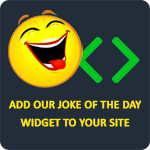 Why is it that skinny men like fat women? Because they need warmth in winter and shade in summer.
ADRIANA89
Have you heard? Michael Jackson's last wish was that his body be turned into Legos. So little kids can play with him. It turns out this wish hasn't been difficult to implement, as his body was already 99% plastic.
dolpn26
What's the difference between parsley and pubic hair? Nothing. Push them both over and keep on eating.
tiny19
Hitler and his associates are having a discussion. Hitler says, "Kill 6 million Jews and a cat." One of his associates replies, "Mein Fuhrer, why must we kill a cat?" Hitler then exclaims, "See, no one cares about the Jews."
Anonymous
Q: What do elephants use for tampons?
A: Sheep.
mgrector