Categories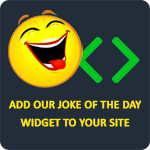 Hitler and his associates are having a discussion. Hitler says, "Kill 6 million Jews and a cat." One of his associates replies, "Mein Fuhrer, why must we kill a cat?" Hitler then exclaims, "See, no one cares about the Jews."
Anonymous
How come there aren't any Mexicans on Star Trek? They don't work in the future, either.
Kanu1P
Here is a pick up line. "Hey girl, come sit on my lap and we could talk about the first thing that pops up."
poisonedxfear
A man recently had his arm amputated and decided to kill himself by jumping off a building. When he was ready to jump, he saw a man with both arms amputated dancing around. He decided to find out why he was so happy. The man told him, "I'm not dancing. My ass is itching and I can't scratch it!"
cabezon
What's the favorite pick up line in a gay bar. Can I push your stool in?
tootietoo