Categories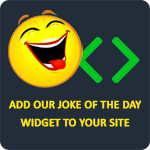 Whats the difference between a girls snowman and a boy snowman?

Snowballs!!!!
Jenn
What do elves learn in school? The Elf-abet!
Anonymous
Q: Why is Santa Claus' sack so big? A: He only comes once a year.
Ms. Wood
Where do polar bears vote? The North Poll.
Anonymous
Q. What is a taxidermist's favorite part of Thanksgiving?
A. The stuffing.
Cory