Categories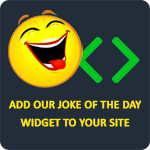 Q: Why did the skeleton cross the road?
A: To get to the body shop.
Lucyfaith16
Q: Why is Santa Claus' sack so big? A: He only comes once a year.
Ms. Wood
Q: What do elves learn in school?
A: The Elfabet.
Anonymous
Whats the difference between a girls snowman and a boy snowman?

Snowballs!!!!
Jenn
Q: What is the difference between Tiger Woods and Santa Claus?
A: Santa stops after three hos.
Brandon Lewis