Categories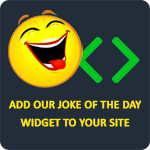 Q: Why are ghosts bad liars?
A: You can see right through them.
Capricorn37
Q: Why does the Easter Bunny hide his eggs?
A: Because he doesn't want anyone to know he's screwing the chickens.
Anonymous
Where do polar bears vote? The North Poll.
Anonymous
Q: Why couldn't Dracula's wife get to sleep?
A: Because of his coffin.
Anonymous
What do you do when 50 zombies surround your house? Hope it's Halloween.
Anonymous