Categories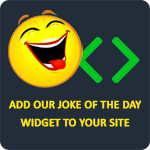 What did the skeleton tell the doctor in the club? I need some body to dance!
Freddyhz1
Why did the skeleton go to the BBQ? To get some spare ribs!
kaitlinlenick23
Q. What is a taxidermist's favorite part of Thanksgiving?
A. The stuffing.
Cory
Why is Santa Claus so jolly? Because he knows where all the naughty girls live.
Anonymous
What do you do when 50 zombies surround your house? Hope it's Halloween.
Anonymous