Categories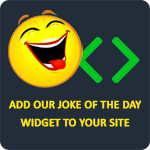 Why isn't the turkey hungry at Thanksgiving? Because he's already stuffed!
Anonymous
Why don't witches have babies? Because their husbands have Hallo-weenies!!!
JustineFonseca
If athletes get athletes foot, what do astronauts get? Missletoe!
Anonymous
What is a mummy's favorite type of music? Wrap!
Anonymous
What's a turkey's favorite song? "I'm Dreaming of a White Christmas"
Anonymous