Categories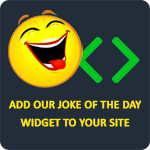 Q: Why do witches wear name tags?
A: To know which witch is which!
Dhruv Garg
Q: Why does the Easter Bunny hide his eggs?
A: Because he doesn't want anyone to know he's screwing the chickens.
Anonymous
Q. What is a taxidermist's favorite part of Thanksgiving?
A. The stuffing.
Cory
Q: Why couldn't Dracula's wife get to sleep?
A: Because of his coffin.
Anonymous
Q: Why are ghosts such good cheerleaders?
A: Because they have a lot of spirit!
Anonymous