Categories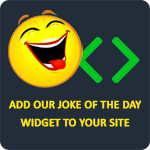 What do you call people who are afraid of Santa Claus? Claustrophobic.
Anonymous
Yo momma is so short, when she went to meet Santa he said, "Go back to work!"
Te Nui-a-Rangi
Whats the difference between a girls snowman and a boy snowman?

Snowballs!!!!
Jenn
What's a turkey's favorite song? "I'm Dreaming of a White Christmas"
Anonymous
Q: Why does the Easter Bunny hide his eggs?
A: Because he doesn't want anyone to know he's screwing the chickens.
Anonymous