Categories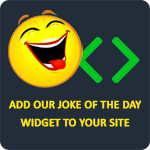 Q: What does a skeleton order at a restaurant?
A: Spare ribs!
cupcake22
What did the skeleton tell the doctor in the club? I need some body to dance!
Freddyhz1
Q. What is a taxidermist's favorite part of Thanksgiving?
A. The stuffing.
Cory
Why did the skeleton go to the BBQ? To get some spare ribs!
kaitlinlenick23
Q: Why do witches wear name tags?
A: To know which witch is which!
Dhruv Garg