Categories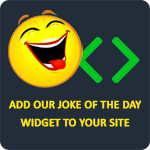 Why don't witches have babies? Because their husbands have Hallo-weenies!!!
JustineFonseca
Why is Christmas just like a day at the office? You do all the work and the fat guy with the suit gets all the credit.
Anonymous
What do you call people who are afraid of Santa Claus? Claustrophobic.
Anonymous
What do get if you cross a Snowman with a Vampire? Frostbite.
Iamfunnyhaha
If athletes get athletes foot, what do astronauts get? Missletoe!
Anonymous