Categories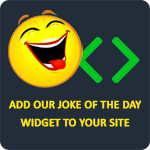 Q. What is a taxidermist's favorite part of Thanksgiving?
A. The stuffing.
Cory
Whats the difference between a girls snowman and a boy snowman?

Snowballs!!!!
Jenn
What's a turkey's favorite song? "I'm Dreaming of a White Christmas"
Anonymous
Q: Why are ghosts such good cheerleaders?
A: Because they have a lot of spirit!
Anonymous
Q: Why couldn't Dracula's wife get to sleep?
A: Because of his coffin.
Anonymous