Categories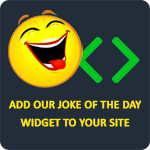 Why did the skeleton go to the BBQ? To get some spare ribs!
kaitlinlenick23
A father and son are out shopping for Christmas presents for their family. The son asks, "What present are my sister and I going to get?" The dad answers, "I got you guys an iPad and iPod." "Wow, thanks," the son replies, "What will you give mom?" The dad says, "Your mom is getting an iRon."
zac bailie
Q: Why do pilgrims pants fall down?
A: Because their belts are on their hats.
Anonymous
Q: Why are vampires so easy to fool?
A: Because they are suckers.
Anonymous
Q: If April showers bring may flowers, what do mayflowers bring?
A: Pilgrims!
Anonymous