Categories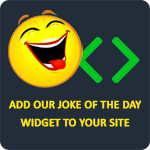 Q: Why do witches wear name tags?
A: To know which witch is which!
Dhruv Garg
Q. What is a taxidermist's favorite part of Thanksgiving?
A. The stuffing.
Cory
Whats the difference between a girls snowman and a boy snowman?

Snowballs!!!!
Jenn
What's a turkey's favorite song? "I'm Dreaming of a White Christmas"
Anonymous
A father and son are out shopping for Christmas presents for their family. The son asks, "What present are my sister and I going to get?" The dad answers, "I got you guys an iPad and iPod." "Wow, thanks," the son replies, "What will you give mom?" The dad says, "Your mom is getting an iRon."
zac bailie