Categories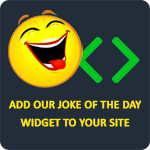 Q: Why are vampires so easy to fool?
A: Because they are suckers.
Anonymous
What do you call people who are afraid of Santa Claus? Claustrophobic.
Anonymous
Why don't witches have babies? Because their husbands have Hallo-weenies!!!
JustineFonseca
What is a mummy's favorite type of music? Wrap!
Anonymous
If athletes get athletes foot, what do astronauts get? Missletoe!
Anonymous