Categories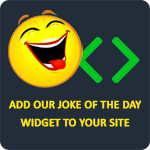 Why are women's breasts like a train set a kid gets at Christmastime? Because they were originally made for children but fathers want to play with them.
Anonymous
Yo momma is so short, when she went to meet Santa he said, "Go back to work!"
Te Nui-a-Rangi
What's a turkey's favorite song? "I'm Dreaming of a White Christmas"
Anonymous
Q: How did the ghost go on vacation?
A: By scareplane!
Anonymous