Categories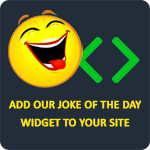 Why don't witches have babies? Because their husbands have Hallo-weenies!!!
JustineFonseca
Yo momma is so stupid when I told her Christmas is right around the corner she went looking for it.
Anonymous
Q: Why did the snowman drop his pants?
A: Because he heard the snow blower was coming.
Mark My Words
Yo momma is so short, when she went to meet Santa he said, "Go back to work!"
Te Nui-a-Rangi
What is a mummy's favorite type of music? Wrap!
Anonymous