Categories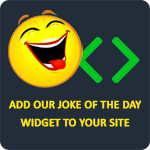 A father and son are out shopping for Christmas presents for their family. The son asks, "What present are my sister and I going to get?" The dad answers, "I got you guys an iPad and iPod." "Wow, thanks," the son replies, "What will you give mom?" The dad says, "Your mom is getting an iRon."
zac bailie
Q: Why does the Easter Bunny hide his eggs?
A: Because he doesn't want anyone to know he's screwing the chickens.
Anonymous
Q: What does a skeleton order at a restaurant?
A: Spare ribs!
cupcake22
Where do polar bears vote? The North Poll.
Anonymous
What did the skeleton tell the doctor in the club? I need some body to dance!
Freddyhz1