Categories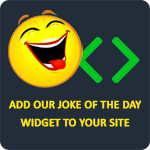 Where do polar bears vote? The North Poll.
Anonymous
Q: What does a skeleton order at a restaurant?
A: Spare ribs!
cupcake22
Why is Christmas just like a day at the office? You do all the work and the fat guy with the suit gets all the credit.
Anonymous
What did the skeleton tell the doctor in the club? I need some body to dance!
Freddyhz1
Why did the skeleton go to the BBQ? To get some spare ribs!
kaitlinlenick23