Categories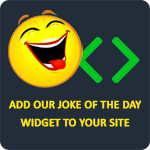 How to be Insulting Abroad: Insist on paying for everything in sterling.
LaughFactory
How to be Insulting in Banks: Put your old sandwiches into the night safe pouch and complain by letter when it's returned to you empty.
LaughFactory
Fun fact: If you cut off all your body hair and laid it end to end you'd be a fucking weirdo.
Joy Barr
How to be Insulting in Church: Always try to be half a line ahead of the vicar, and always be as loud as you dare in the responses.
LaughFactory