Categories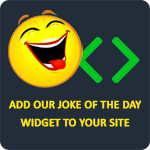 What's the difference between a BMW and a porcupine? A BMW has pricks on the inside!
brent
I believe in respect for the dead, in fact I could only respect you if you were dead.
LaughFactory
Sure, I've seen people like you before, but I had to pay an admission fee.
LaughFactory
Listen, are you always this stupid or are you just making a special effort today?
LaughFactory
Go ahead, tell them everything you know. It'll only take 10 seconds.
LaughFactory