Categories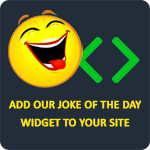 Q: How do you get 500 old cows in a barn?
A: Put up a Bingo sign.
Chocolate Sundaes
A man siting at a bar asked a pretty woman sitting next to him, Excuse me, but can I smell your pussy?" "Get away from me, you pervert," she replied. "Oh, I'm sorry," exclaims the man, "It must be your feet."
Mark My Words
If I was as ugly as you were, I wouldn't say "Hi" to people. I'd say "BOO!"
LaughFactory
Listen, are you always this stupid or are you just making a special effort today?
LaughFactory
I believe in respect for the dead, in fact I could only respect you if you were dead.
LaughFactory