Categories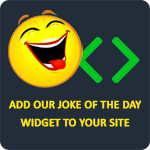 I know you're a self-made man. It's nice of you to take the blame!
LaughFactory
Keep talking. I always yawn when I'm interested.
LaughFactory
Why don't aliens eat clowns? Because they taste funny.
ferrari
I heard you went to have your head examined but the doctors found nothing there.
LaughFactory
I'd hate to see you go, but I'd love to watch you leave!
LaughFactory