Categories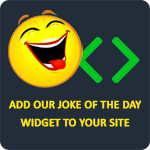 Insult: Hey, you're not much of a looker, but I'll date you.
Response: Thanks. You must be very open-minded. Was that how your brain slipped out?
LaughFactory
You should do some soul-searching. Maybe you'll find one.
LaughFactory
Q: How do you get 500 old cows in a barn?
A: Put up a Bingo sign.
Chocolate Sundaes
I don't mind that you are talking, so long as you don't mind that I'm not listening.
LaughFactory
You're so stupid, you threw a rock at the ground and missed.
LaughFactory