Categories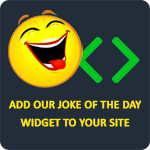 Sure, I'd love to help you out. Now, which way did you come in?
LaughFactory
I heard you went to have your head examined but the doctors found nothing there.
LaughFactory
Girl: "Girls are better than boys."
Boy: "Then why did God make boys first?"
Girl: "Duh, you have to have a rough draft before the final copy."
FuzzyPanda123
When God was handing out brains, Jack must have been holding the door.
LaughFactory
Instead of being born again, why don't you just grow up?
LaughFactory