Categories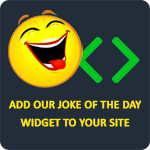 Instead of being born again, why don't you just grow up?
LaughFactory
The fact that no one understands you doesn't mean you're an artist.
LaughFactory
Go ahead, tell them everything you know. It'll only take 10 seconds.
LaughFactory
What is the best contraceptive for old people? Nudity.
mkcastel
How can I keep a major nerd in suspense for 24 hours? I'll tell you tomorrow.
LaughFactory