Categories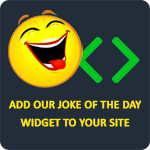 Sure, I've seen people like you before, but I had to pay an admission fee.
LaughFactory
Listen, are you always this stupid or are you just making a special effort today?
LaughFactory
Go ahead, tell them everything you know. It'll only take 10 seconds.
LaughFactory
How did you get here? Did someone leave your cage open?
LaughFactory
If you call one of those psychic hotlines and they don't greet you by your name, you should hang up!
Micahskatt2