Categories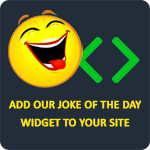 When somebody calls you gay, say, "I'm straighter than the pole your mom dances on."
Anonymous
You started at the bottom and it's been downhill ever since!
LaughFactory
Girl: "Girls are better than boys."
Boy: "Then why did God make boys first?"
Girl: "Duh, you have to have a rough draft before the final copy."
FuzzyPanda123
Sure, I'd love to help you out. Now, which way did you come in?
LaughFactory
I heard you went to have your head examined but the doctors found nothing there.
LaughFactory