Categories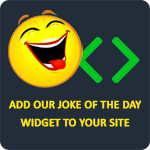 You're so stupid, you threw a rock at the ground and missed.
LaughFactory
The fact that no one understands you doesn't mean you're an artist.
LaughFactory
Instead of being born again, why don't you just grow up?
LaughFactory
Why don't aliens eat clowns? Because they taste funny.
ferrari
I heard you went to have your head examined but the doctors found nothing there.
LaughFactory