Categories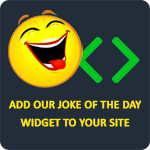 You're so stupid, you threw a rock at the ground and missed.
LaughFactory
Hold still, I'm trying to imagine you with a personality.
LaughFactory
Save your breath. You'll need it to blow up your date.
LaughFactory
Q: How do you get 500 old cows in a barn?
A: Put up a Bingo sign.
Chocolate Sundaes
If I was as ugly as you were, I wouldn't say "Hi" to people. I'd say "BOO!"
LaughFactory