Categories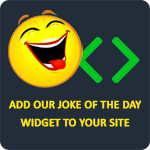 I heard you went to have your head examined but the doctors found nothing there.
LaughFactory
When God was handing out brains, Jack must have been holding the door.
LaughFactory
Instead of being born again, why don't you just grow up?
LaughFactory
Why don't aliens eat clowns? Because they taste funny.
ferrari
If I ever need a brain transplant, I'd choose yours because I'd want a brain that had never been used.
LaughFactory