Categories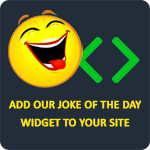 That isn't your forehead, it's your hair trying to run away from your face!
LaughFactory
Q: How do you get 500 old cows in a barn?
A: Put up a Bingo sign.
Chocolate Sundaes
You started at the bottom and it's been downhill ever since!
LaughFactory
If I ever need a brain transplant, I'd choose yours because I'd want a brain that had never been used.
LaughFactory
You need to get a life outside of the internet. Go outside, look around. I'm sure trailer parks smell lovely in the morning.
LaughFactory