Categories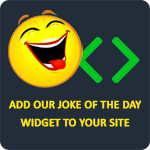 Save your breath. You'll need it to blow up your date.
LaughFactory
If I was as ugly as you were, I wouldn't say "Hi" to people. I'd say "BOO!"
LaughFactory
Listen, are you always this stupid or are you just making a special effort today?
LaughFactory
I believe in respect for the dead, in fact I could only respect you if you were dead.
LaughFactory
What's the difference between a BMW and a porcupine? A BMW has pricks on the inside!
brent