Categories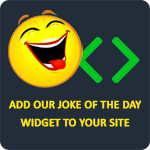 If I ever need a brain transplant, I'd choose yours because I'd want a brain that had never been used.
LaughFactory
How can I keep a major nerd in suspense for 24 hours? I'll tell you tomorrow.
LaughFactory
I'd hate to see you go, but I'd love to watch you leave!
LaughFactory
What is the best contraceptive for old people? Nudity.
mkcastel
I know you're a self-made man. It's nice of you to take the blame!
LaughFactory