Categories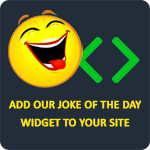 I believe in respect for the dead, in fact I could only respect you if you were dead.
LaughFactory
What's the difference between a BMW and a porcupine? A BMW has pricks on the inside!
brent
Sure, I've seen people like you before, but I had to pay an admission fee.
LaughFactory
How did you get here? Did someone leave your cage open?
LaughFactory
Go ahead, tell them everything you know. It'll only take 10 seconds.
LaughFactory