Categories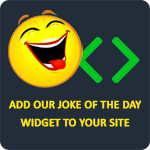 Tell me, as an outsider, what do you think of the human race?
LaughFactory
Hold still, I'm trying to imagine you with a personality.
LaughFactory
Save your breath. You'll need it to blow up your date.
LaughFactory
A man is lying on the beach, wearing nothing but a cap over his crotch. A woman passing by remarks, "If you were any sort of a gentleman, you would lift your hat to a lady." He replies, "If you were any sort of a sexy lady, the hat would lift by itself."
vicky7867
If I was as ugly as you were, I wouldn't say "Hi" to people. I'd say "BOO!"
LaughFactory