Categories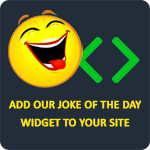 Go ahead, tell them everything you know. It'll only take 10 seconds.
LaughFactory
How did you get here? Did someone leave your cage open?
LaughFactory
Tom: "Were you born on the highway?"
Jerry: "Uh no, why?"
Tom: "Because that's where most accidents happen."
PandaBuddy2795
That isn't your forehead, it's your hair trying to run away from your face!
LaughFactory
If you call one of those psychic hotlines and they don't greet you by your name, you should hang up!
Micahskatt2