Categories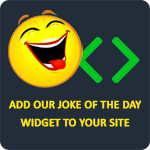 That isn't your forehead, it's your hair trying to run away from your face!
LaughFactory
You started at the bottom and it's been downhill ever since!
LaughFactory
You need to get a life outside of the internet. Go outside, look around. I'm sure trailer parks smell lovely in the morning.
LaughFactory
I heard you went to have your head examined but the doctors found nothing there.
LaughFactory
Sure, I'd love to help you out. Now, which way did you come in?
LaughFactory