Categories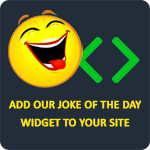 Sure, I'd love to help you out. Now, which way did you come in?
LaughFactory
I saw a young teenage kid on the subway today. He had a Mohawk hairstyle dyed yellow, green, and red. He caught me staring at him and in a nasty voice asked, "What the f*ck are you looking at?" I replied, "Sorry, but when I was about your age I had sex with a parrot. I thought maybe you were my son."
luis
I heard you went to have your head examined but the doctors found nothing there.
LaughFactory
Q: What's the difference between Tom Cruise and a tuxedo?
A: One comes out of the closet on special occasions and the other is a tuxedo.
Anonymous
If I ever need a brain transplant, I'd choose yours because I'd want a brain that had never been used.
LaughFactory