Categories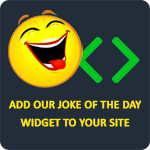 The fact that no one understands you doesn't mean you're an artist.
LaughFactory
How can I keep a major nerd in suspense for 24 hours? I'll tell you tomorrow.
LaughFactory
After meeting you, I've decided I am in favor of abortion in cases of incest.
LaughFactory
I'd hate to see you go, but I'd love to watch you leave!
LaughFactory
I saw a young teenage kid on the subway today. He had a Mohawk hairstyle dyed yellow, green, and red. He caught me staring at him and in a nasty voice asked, "What the f*ck are you looking at?" I replied, "Sorry, but when I was about your age I had sex with a parrot. I thought maybe you were my son."
luis