Categories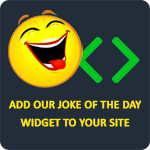 You started at the bottom and it's been downhill ever since!
LaughFactory
You need to get a life outside of the internet. Go outside, look around. I'm sure trailer parks smell lovely in the morning.
LaughFactory
Sure, I'd love to help you out. Now, which way did you come in?
LaughFactory
I heard you went to have your head examined but the doctors found nothing there.
LaughFactory
Q: What's the difference between Tom Cruise and a tuxedo?
A: One comes out of the closet on special occasions and the other is a tuxedo.
Anonymous