Categories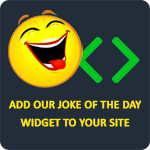 Instead of being born again, why don't you just grow up?
LaughFactory
Teacher: "Kids,what does the chicken give you?"
Student: "Meat!"
Teacher: "Very good! Now what does the pig give you?"
Student: "Bacon!"
Teacher: "Great! And what does the fat cow give you?"
Student: "Homework!"
Anonymous
The fact that no one understands you doesn't mean you're an artist.
LaughFactory
I saw a young teenage kid on the subway today. He had a Mohawk hairstyle dyed yellow, green, and red. He caught me staring at him and in a nasty voice asked, "What the f*ck are you looking at?" I replied, "Sorry, but when I was about your age I had sex with a parrot. I thought maybe you were my son."
luis
Why don't aliens eat clowns? Because they taste funny.
ferrari