Categories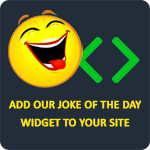 I don't mind that you are talking, so long as you don't mind that I'm not listening.
LaughFactory
Save your breath. You'll need it to blow up your date.
LaughFactory
Hold still, I'm trying to imagine you with a personality.
LaughFactory
If I was as ugly as you were, I wouldn't say "Hi" to people. I'd say "BOO!"
LaughFactory
Listen, are you always this stupid or are you just making a special effort today?
LaughFactory