Categories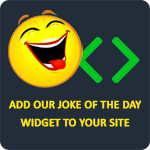 You're proof that every good gene pool has a shallow end.
LaughFactory
If clues were shoes, you'd go barefoot.
LaughFactory
My psychiatrist told me I was crazy and I said I want a second opinion. He said okay, you're ugly too.
zacharyjamess
You're so skinny, you hula hoop with a Cheerio!
SANDYLAUREL13
Go ahead, tell them everything you know. It'll only take 10 seconds.
LaughFactory