Categories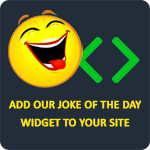 If you call one of those psychic hotlines and they don't greet you by your name, you should hang up!
Micahskatt2
That isn't your forehead, it's your hair trying to run away from your face!
LaughFactory
A fat man goes into a fast food restaurant and orders his food. The cashier says that it will be a minute or two for his food. Finally his food is ready. The cashier hands the food to the fat guy and tells him, "Sorry about your weight."
jayandheather
If I ever need a brain transplant, I'd choose yours because I'd want a brain that had never been used.
LaughFactory
Why don't aliens eat clowns? Because they taste funny.
ferrari