Categories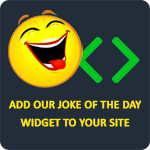 Why don't aliens eat clowns? Because they taste funny.
ferrari
After meeting you, I've decided I am in favor of abortion in cases of incest.
LaughFactory
I'd hate to see you go, but I'd love to watch you leave!
LaughFactory
How can I keep a major nerd in suspense for 24 hours? I'll tell you tomorrow.
LaughFactory
I hear the only place you're ever invited is outside.
LaughFactory