Categories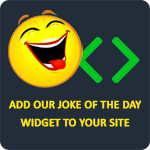 Listen, are you always this stupid or are you just making a special effort today?
LaughFactory
A fat man goes into a fast food restaurant and orders his food. The cashier says that it will be a minute or two for his food. Finally his food is ready. The cashier hands the food to the fat guy and tells him, "Sorry about your weight."
jayandheather
I believe in respect for the dead, in fact I could only respect you if you were dead.
LaughFactory
Tom: "Were you born on the highway?"
Jerry: "Uh no, why?"
Tom: "Because that's where most accidents happen."
PandaBuddy2795
Go ahead, tell them everything you know. It'll only take 10 seconds.
LaughFactory