Categories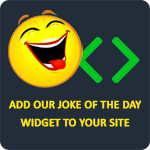 If I ever need a brain transplant, I'd choose yours because I'd want a brain that had never been used.
LaughFactory
Why don't aliens eat clowns? Because they taste funny.
ferrari
Instead of being born again, why don't you just grow up?
LaughFactory
Tom: "Were you born on the highway?"
Jerry: "Uh no, why?"
Tom: "Because that's where most accidents happen."
PandaBuddy2795
When God was handing out brains, Jack must have been holding the door.
LaughFactory