Categories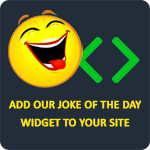 Keep talking. I always yawn when I'm interested.
LaughFactory
I hear the only place you're ever invited is outside.
LaughFactory
If clues were shoes, you'd go barefoot.
LaughFactory
What is the difference between a Harley and a Hoover? The location of the dirt bag.
yesca487
If beauty was a drop of water, you'd be the Sahara Desert.
Alaska Baker