Categories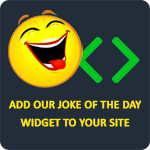 If I ever need a brain transplant, I'd choose yours because I'd want a brain that had never been used.
LaughFactory
Tom: "Were you born on the highway?"
Jerry: "Uh no, why?"
Tom: "Because that's where most accidents happen."
PandaBuddy2795
You started at the bottom and it's been downhill ever since!
LaughFactory
Why don't aliens eat clowns? Because they taste funny.
ferrari
Q: What's the difference between Tom Cruise and a tuxedo?
A: One comes out of the closet on special occasions and the other is a tuxedo.
Anonymous