Categories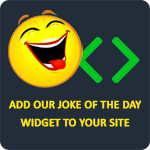 If I ever need a brain transplant, I'd choose yours because I'd want a brain that had never been used.
LaughFactory
A fat man goes into a fast food restaurant and orders his food. The cashier says that it will be a minute or two for his food. Finally his food is ready. The cashier hands the food to the fat guy and tells him, "Sorry about your weight."
jayandheather
Why don't aliens eat clowns? Because they taste funny.
ferrari
You started at the bottom and it's been downhill ever since!
LaughFactory
Q: What's the difference between Tom Cruise and a tuxedo?
A: One comes out of the closet on special occasions and the other is a tuxedo.
Anonymous