Categories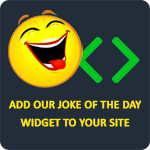 Tom: "Were you born on the highway?"
Jerry: "Uh no, why?"
Tom: "Because that's where most accidents happen."
PandaBuddy2795
How did you get here? Did someone leave your cage open?
LaughFactory
Go ahead, tell them everything you know. It'll only take 10 seconds.
LaughFactory
A fat man goes into a fast food restaurant and orders his food. The cashier says that it will be a minute or two for his food. Finally his food is ready. The cashier hands the food to the fat guy and tells him, "Sorry about your weight."
jayandheather
If I ever need a brain transplant, I'd choose yours because I'd want a brain that had never been used.
LaughFactory