Categories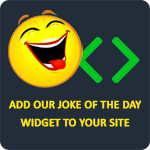 I hear the only place you're ever invited is outside.
LaughFactory
Girl: "Girls are better than boys."
Boy: "Then why did God make boys first?"
Girl: "Duh, you have to have a rough draft before the final copy."
FuzzyPanda123
I know you're a self-made man. It's nice of you to take the blame!
LaughFactory
Keep talking. I always yawn when I'm interested.
LaughFactory
Pardon me, but you've obviously mistaken me for someone who gives a damn.
LaughFactory