Categories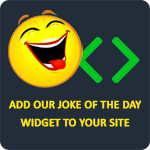 Instead of being born again, why don't you just grow up?
LaughFactory
You have that far look in your eyes: the farther you are, the better you look.
Anonymous
You're so ugly, you make blind kids cry.
LaughFactory
Pardon me, but you've obviously mistaken me for someone who gives a damn.
LaughFactory
When God was handing out brains, Jack must have been holding the door.
LaughFactory