Categories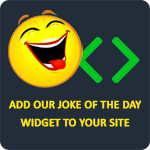 That isn't your forehead, it's your hair trying to run away from your face!
LaughFactory
You started at the bottom and it's been downhill ever since!
LaughFactory
You're so ugly, you make blind kids cry.
LaughFactory
If ugliness were bricks, you'd be the Great Wall of China!
Anonymous
Q: What's the difference between Tom Cruise and a tuxedo?
A: One comes out of the closet on special occasions and the other is a tuxedo.
Anonymous