Categories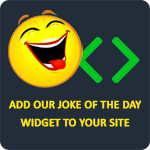 If I ever need a brain transplant, I'd choose yours because I'd want a brain that had never been used.
LaughFactory
How did you get here? Did someone leave your cage open?
LaughFactory
What's the difference between a BMW and a porcupine? A BMW has pricks on the inside!
brent
Sure, I've seen people like you before, but I had to pay an admission fee.
LaughFactory
Why don't aliens eat clowns? Because they taste funny.
ferrari