Categories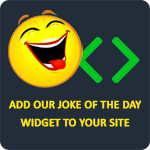 You're so stupid, you threw a rock at the ground and missed.
LaughFactory
A fat man goes into a fast food resturant and orders his food. The cashier says that it will be a min or two for his food. Finally his food is ready. The cashier hands the food to the fat guy and tells him, "Sorry about your weight."
jayandheather
When Jack was born, his mother was charged for littering.
LaughFactory
I'd ask how old you are, but I don't think you can count that high.
LaughFactory
Hey, I remember you when you had only one stomach.
LaughFactory