Categories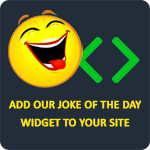 Let's play horse. I'll be the front end and you be yourself.
LaughFactory
What are you going to do for a face when the baboon calls and wants his ass back?
LaughFactory
If clues were shoes, you'd go barefoot.
LaughFactory
Why is it that the people with the smallest minds always have the biggest mouths?
LaughFactory
I'd ask how old you are, but I don't think you can count that high.
LaughFactory