Categories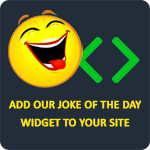 If I promise to miss you, will you go away?
LaughFactory
Pardon me, but you've obviously mistaken me for someone who gives a damn.
LaughFactory
Why is it that the people with the smallest minds always have the biggest mouths?
LaughFactory
I know you're a self-made man. It's nice of you to take the blame!
LaughFactory
If you give him a penny for his thoughts, you get change back.
LaughFactory