Categories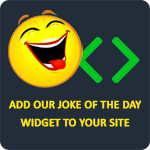 You started at the bottom and it's been downhill ever since!
LaughFactory
You're so ugly, you make blind kids cry.
LaughFactory
Q: What's the difference between Tom Cruise and a tuxedo?
A: One comes out of the closet on special occasions and the other is a tuxedo.
Anonymous
If ugliness were bricks, you'd be the Great Wall of China!
Anonymous
Sure, I'd love to help you out. Now, which way did you come in?
LaughFactory