Categories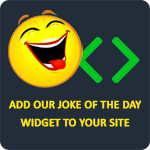 I'll never forget the first time we met, although I'll keep trying.
LaughFactory
Your teeth are so big when you sneeze you bite your chest.
alhagie richards
Teacher: "Kids,what does the chicken give you?"
Student: "Meat!"
Teacher: "Very good! Now what does the pig give you?"
Student: "Bacon!"
Teacher: "Great! And what does the fat cow give you?"
Student: "Homework!"
Anonymous
A man asks a woman, "Haven't I seen you someplace before?" The woman responds, "Yeah, that's why I don't go there anymore."
LaughFactory
An old teacher asked her student, "If I say, 'I am beautiful,' which tense is that?" The student replied, "It is obviously past."
Anonymous