Categories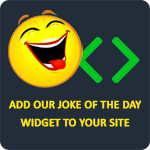 You are so ugly, the last time you got a piece of ass was when your hand slipped through the toilet paper.
LaughFactory
A mother said to her son, "Look at that kid over there; he's not misbehaving." The son replied, "Maybe he has good parents then!"
Anonymous
Your Halloween costume came in the mail today. I opened it. It was a rooster mask and a bag of lollipops. Going as a c*ck sucker again!?
jewelzee86
Why don't you slip into something more comfortable, like a coma.
LaughFactory
If I throw a stick, will you go away?
LaughFactory