Categories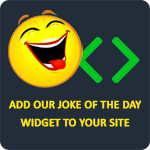 God made rivers, God made lakes, God made you, Hell, everyone makes mistakes.
rogger316
I'll never forget the first time we met, although I'll keep trying.
LaughFactory
You're so fat you're the reason why the Earth is tilted.
BrittanyHoran321
Q: How do you leave a jackass in suspense?
A: Don't know. I'll tell you tomorrow
wise guy
How did giraffes come to be? Chuck Norris uppercut a horse.
greatlover16