Categories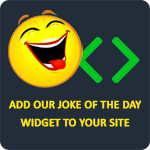 Q: How do you kill 100 flies at once? A: Smack an Ethiopian in the face with a frying pan.
Anonymous
Q: Why are there no knock knock jokes about America?
A: Because freedom rings!
h_crumbs
In class, Jose is asked to use the word "Cherokee" in a sentence. He pauses and says, "I lost my house key and now I have to Cherokee with my sister."
guicho1972
So two Irishmen are traveling to Australia. Before they leave home, one of their dads gives them both a bit of advice: "You watch them Aussie cab drivers. They'll rob you blind. Don't you go paying them what they ask. You haggle." At the Sydney airport, the Irishmen catch a cab to their hotel. When they reach their destination, the cabbie says, "That'll be twenty dollars, lads." "Oh no you don't! My dad warned me about you. You'll only be getting fifteen dollars from me," says one of the men. "And you'll only be getting fifteen from me too," adds the other.
Rústi Strønzö
Q: What's the difference between America and yogurt?
A: If you leave yogurt alone for 200 years, it develops a culture.
MsEverybodylovespie