Categories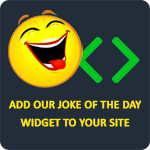 Why are there no ice cubes in Poland? Because they lost the recipe.
Anonymous
Q: Why do Scottish people wear kilts? A: Sheep can hear a zipper from a mile away.
Anonymous
I live in Bakersfield, California. At least it's not Barstow, a city that owes its existence to the fact that people traveling to Las Vegas needed a place to stop and take a sh*t. There was a toilet and they built a city around it.
RobShock
Q: If you go into the toilet American and you come out of the toilet American, what are you while you're on the toilet?
A: European.
Anonymous
Two men from Dublin are walking to the annual Dublin Fair, when it starts to rain. "Patrick, put your umbrella up, it's raining." "I can't, Mick, it's got holes in it." "Holes in it? Then why did you bring it with you?" "I didn't think it would rain."
jtsegal