Categories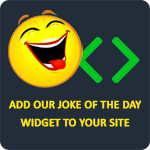 An American, a Vietnamese, a Mexican, a Brazilian, a Canadian, a German, a Turk, and a Russian walk into a fancy restaurant. When they got to the front desk, they were kicked out because they did not have a Thai.
Dr. John
Q: How did I get to Iraq?

A: Iran.
Anonymous
Why are there no ice cubes in Poland? Because they lost the recipe.
Anonymous
How do Germans tie their shoes? With little knot-sies!
akozel
Why do Italians wear gold chains? So they know where to stop shaving!
salasand