Categories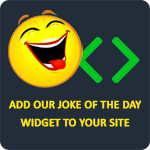 What does a Mexican order at Starbucks? Cap-a-Chino!
piseisea
Q: Why are there no knock knock jokes about America?
A: Because freedom rings!
h_crumbs
At first I was surprised the Holocaust happened. And then I watched German Porn.
mmlaughfactory
Have you heard the Mexican weather forecast? Chili today and hot tamale.
shermsas
Q: Why is North Korea not as fun as South Korea?
A: Because it has no Seoul.
Joshua and Olivia