Categories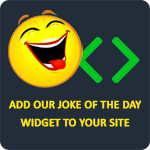 Why are there no ice cubes in Poland? Because they lost the recipe.
Anonymous
How do Germans tie their shoes? With little knot-sies!
akozel
Why do Italians wear gold chains? So they know where to stop shaving!
salasand
Q: How many Frenchmen does it take to change a light bulb?
A: Five. One to hold the light bulb and four to turn the house.
KillKills
Q: If a plane crashed on the Canada/USA border, where would the survivors be buried?
A: You don't bury survivors.
Anonymous