Categories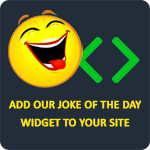 Q: Which state has the most questions?
A: Alaska.
joke lover
Q: How did I get to Iraq?

A: Iran.
Anonymous
Why are there no ice cubes in Poland? Because they lost the recipe.
Anonymous
Remember that watch from Switzerland? The Swatch! Thank God Croatia didn't come out with a watch of their own. "Hey what time is it?" "Oh hold on let me take a look at my Crotch."
Mark My Words
Q: If a plane crashed on the Canada/USA border, where would the survivors be buried?
A: You don't bury survivors.
Anonymous