Categories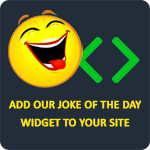 What's the difference between an Irish wake and an Irish wedding? One less drunk.
mblake73
An American tourist walks out of a Mexican train station when he notices he isn't wearing his watch. A Mexican man is resting under a sombrero under a nearby tree. The American approaches the Mexican and asks, "Excuse me, do you know what time is?" The Mexican looks at the donkey, grabs its balls, and replies, "4:30." The American asks, "How do you know that?" The Mexican replies, "Well you get a handful of the donkeys balls and lift them up so you can see that clock across the street."
Gabe Neaveill
Why are there no ice cubes in Poland? Because they lost the recipe.
Anonymous
Q: Why do Scottish people wear kilts? A: Sheep can hear a zipper from a mile away.
Anonymous
Two Irishmen friends are drinking together at one of their homes. One friend takes out a bottle of Irish whiskey and asks the other, "Will you pour this bottle out on my grave if I die first?" His friend replies, "Do you mind if I pass it through my kidneys first?"
Mark My Words