Categories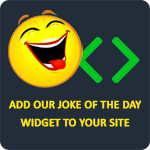 Why are there no ice cubes in Poland? Because they lost the recipe.
Anonymous
Q: Why do Scottish people wear kilts? A: Sheep can hear a zipper from a mile away.
Anonymous
Two Irishmen friends are drinking together at one of their homes. One friend takes out a bottle of Irish whiskey and asks the other, "Will you pour this bottle out on my grave if I die first?" His friend replies, "Do you mind if I pass it through my kidneys first?"
Mark My Words
Q: If you go into the toilet American and you come out of the toilet American, what are you while you're on the toilet?
A: European.
Anonymous
I live in Bakersfield, California. At least it's not Barstow, a city that owes its existence to the fact that people traveling to Las Vegas needed a place to stop and take a sh*t. There was a toilet and they built a city around it.
RobShock