Categories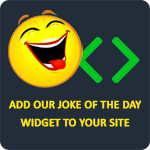 An American tourist walks out of a Mexican train station when he notices he isn't wearing his watch. A Mexican man is resting under a sombrero under a nearby tree. The American approaches the Mexican and asks, "Excuse me, do you know what time is?" The Mexican looks at the donkey, grabs its balls, and replies, "4:30." The American asks, "How do you know that?" The Mexican replies, "Well you get a handful of the donkeys balls and lift them up so you can see that clock across the street."
Gabe Neaveill
Two men from Dublin are walking to the annual Dublin Fair, when it starts to rain. "Patrick, put your umbrella up, it's raining." "I can't, Mick, it's got holes in it." "Holes in it? Then why did you bring it with you?" "I didn't think it would rain."
jtsegal
I live in Bakersfield, California. At least it's not Barstow, a city that owes its existence to the fact that people traveling to Las Vegas needed a place to stop and take a sh*t. There was a toilet and they built a city around it.
RobShock
What does a Mexican order at Starbucks? Cap-a-Chino!
piseisea
At first I was surprised the Holocaust happened. And then I watched German Porn.
mmlaughfactory