Categories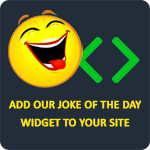 Q: How did I get to Iraq?

A: Iran.
Anonymous
Q: What do you call a baptized Mexican?
A: Bean dip.
Columbone
Q: If a plane crashed on the Canada/USA border, where would the survivors be buried?
A: You don't bury survivors.
Anonymous
Why are there no ice cubes in Poland? Because they lost the recipe.
Anonymous
How do Germans tie their shoes? With little knot-sies!
akozel