Categories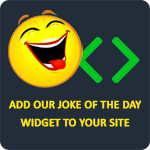 Have you heard the Mexican weather forecast? Chili today and hot tamale.
shermsas
Q: Why were the Indians here first?
A: They had reservations.
Silenxio Maximeaning Ultimious
Q: Whats an Indian's favorite sport?
A: Bolleyball.
Rebecca A
Q: Why is North Korea not as fun as South Korea?
A: Because it has no Seoul.
Joshua and Olivia
A Brazilian, a Frenchman, and a Nigerian were in a plane. The pilot told them that they have to jump out of the plane when they find their country. The Brazilian jumped out when he saw the Christ the Redeemer statue. The Frenchman jumped out when he saw the Eiffel Tower. When it was the Nigerian's turn the pilot asked, "When will you jump?" The Nigerian put his hand outside the plane window. When he brought it back in, his watch was gone. He said, "Ah, we've reached my country."
Ikenna @ikenna_igwe