Categories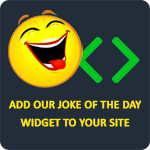 Two men from Dublin are walking to the annual Dublin Fair, when it starts to rain. "Patrick, put your umbrella up, it's raining." "I can't, Mick, it's got holes in it." "Holes in it? Then why did you bring it with you?" "I didn't think it would rain."
jtsegal
What does a Mexican order at Starbucks? Cap-a-Chino!
piseisea
At first I was surprised the Holocaust happened. And then I watched German Porn.
mmlaughfactory
Q: Why were the Indians here first?
A: They had reservations.
Silenxio Maximeaning Ultimious
Q: Whats an Indian's favorite sport?
A: Bolleyball.
Rebecca A