Categories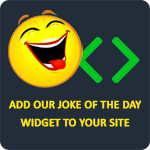 An American tourist walks out of a Mexican train station when he notices he isn't wearing his watch. A Mexican man is resting under a sombrero under a nearby tree. The American approaches the Mexican and asks, "Excuse me, do you know what time is?" The Mexican looks at the donkey, grabs its balls, and replies, "4:30." The American asks, "How do you know that?" The Mexican replies, "Well you get a handful of the donkeys balls and lift them up so you can see that clock across the street."
Gabe Neaveill
Q: If a plane crashed on the Canada/USA border, where would the survivors be buried?
A: You don't bury survivors.
Anonymous
Have you heard the Mexican weather forecast? Chili today and hot tamale.
TheLaughFactory
Q: Why do Scottish people wear kilts? A: Sheep can hear a zipper from a mile away.
Anonymous
What's the difference between an Irish wake and an Irish wedding? One less drunk.
mblake73