Categories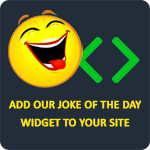 Q: If a plane crashed on the Canada/USA border, where would the survivors be buried?
A: You don't bury survivors.
Anonymous
At first I was surprised the Holocaust happened. And then I watched German Porn.
mmlaughfactory
Q: Why were the Indians here first?
A: They had reservations.
Silenxio Maximeaning Ultimious
Q: Whats an Indian's favorite sport?
A: Bolleyball.
Rebecca A
Have you heard the Mexican weather forecast? Chili today and hot tamale.
shermsas