Categories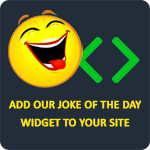 Q: If a plane crashed on the Canada/USA border, where would the survivors be buried?
A: You don't bury survivors.
Anonymous
Q: Why do Scottish people wear kilts? A: Sheep can hear a zipper from a mile away.
Anonymous
Q: If you go into the toilet American and you come out of the toilet American, what are you while you're on the toilet?
A: European.
Anonymous
A Brazilian, a Frenchman, and a Nigerian were in a plane. The pilot told them that they have to jump out of the plane when they find their country. The Brazilian jumped out when he saw the Christ the Redeemer statue. The Frenchman jumped out when he saw the Eiffel Tower. When it was the Nigerian's turn the pilot asked, "When will you jump?" The Nigerian put his hand outside the plane window. When he brought it back in, his watch was gone. He said, "Ah, we've reached my country."
Ikenna @ikenna_igwe
I live in Bakersfield, California. At least it's not Barstow, a city that owes its existence to the fact that people traveling to Las Vegas needed a place to stop and take a sh*t. There was a toilet and they built a city around it.
RobShock