Categories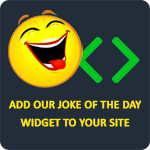 Two men from Dublin are walking to the annual Dublin Fair, when it starts to rain. "Patrick, put your umbrella up, it's raining." "I can't, Mick, it's got holes in it." "Holes in it? Then why did you bring it with you?" "I didn't think it would rain."
jtsegal
Q: If a plane crashed on the Canada/USA border, where would the survivors be buried?
A: You don't bury survivors.
Anonymous
What does a Mexican order at Starbucks? Cap-a-Chino!
piseisea
At first I was surprised the Holocaust happened. And then I watched German Porn.
mmlaughfactory
A Brazilian, a Frenchman, and a Nigerian were in a plane. The pilot told them that they have to jump out of the plane when they find their country. The Brazilian jumped out when he saw the Christ the Redeemer statue. The Frenchman jumped out when he saw the Eiffel Tower. When it was the Nigerian's turn the pilot asked, "When will you jump?" The Nigerian put his hand outside the plane window. When he brought it back in, his watch was gone. He said, "Ah, we've reached my country."
Ikenna @ikenna_igwe