Categories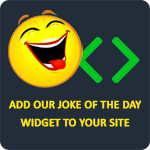 A thief stuck a pistol in a man's ribs and said, "Give me your money." The gentleman, shocked by the sudden attack, said, "You cannot do this, I'm a congressman!" The thief replied, "In that case, give me MY money!"
Anonymous
A boss said to his secretary, "I want to have sex with you, but I will make it very fast. I'll throw $1,000 on the floor and by the time you bend down to pick it up, I'll be done." She thought for a moment then called her boyfriend and told him the story. Her boyfriend said, "Do it but ask him for $2,000. Then pick up the money so fast, he won't even have enough time to undress himself." She agrees. After half an hour passes, the boyfriend calls the girlfriend and asks, "So what happened?" She responds, "The bastard used coins, so I'm still picking it up and he is still having sex with me!"
Bertha Kee
A lawyer is standing in a long line at the box office. Suddenly, he feels a pair of hands kneading his shoulders, back, and neck. The lawyer turns around. "What the hell do you think you're doing?" "I'm a chiropractor, and I'm just keeping in practice while I'm waiting in line." "Well, I'm a lawyer, but you don't see me screwing the guy in front of me, do you?"
iamalilqt
A doctor and a lawyer are talking at a party. Their conversation is constantly interrupted by people describing their ailments and asking the doctor for free medical advice. After an hour of this, the exasperated doctor asks the lawyer, "What do you do to stop people from asking you for legal advice when you're out of the office?" "I give it to them," replies the lawyer, "and then I send them a bill." The doctor is shocked, but agrees to give it a try. The next day, still feeling slightly guilty, the doctor prepares the bills. When he goes to place them in his mailbox, he finds a bill from the lawyer.
jvcuzner
A local United Way office realized that the organization had never received a donation from the town's most successful lawyer. The person in charge of contributions called him to persuade him to contribute. "Our research shows that out of a yearly income of at least $500,000, you did not give a penny to charity. Wouldn't you like to give back to the community in some way?" The lawyer mulled this over for a moment and replied, "First, did your research also show that my mother is dying after a long illness, and has medical bills that are several times her annual income?" Embarrassed, the United Way rep mumbled, "Um, no." The lawyer interrupts, "Or that my brother, a disabled veteran, is blind and confined to a wheelchair?" The stricken United Way rep began to stammer out an apology, but was interrupted again. "Or that my sister's husband died in a traffic accident," the lawyer's voice rising in indignation, "leaving her penniless with three children?!" The humiliated United Way rep, completely beaten, said simply, "I had no idea." On a roll, the lawyer cut him off once again, "So if I don't give any money to them, why should I give any to you?"
darrenmassey