Categories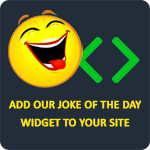 A thief stuck a pistol in a man's ribs and said, "Give me your money." The gentleman, shocked by the sudden attack, said, "You cannot do this, I'm a congressman!" The thief replied, "In that case, give me MY money!"
Anonymous
A boss said to his secretary, "I want to have sex with you, but I will make it very fast. I'll throw $1,000 on the floor and by the time you bend down to pick it up, I'll be done." She thought for a moment then called her boyfriend and told him the story. Her boyfriend said, "Do it but ask him for $2,000. Then pick up the money so fast, he won't even have enough time to undress himself." She agrees. After half an hour passes, the boyfriend calls the girlfriend and asks, "So what happened?" She responds, "The bastard used coins, so I'm still picking it up and he is still having sex with me!"
Bertha Kee
A lawyer is standing in a long line at the box office. Suddenly, he feels a pair of hands kneading his shoulders, back, and neck. The lawyer turns around. "What the hell do you think you're doing?" "I'm a chiropractor, and I'm just keeping in practice while I'm waiting in line." "Well, I'm a lawyer, but you don't see me screwing the guy in front of me, do you?"
iamalilqt
A doctor and a lawyer are talking at a party. Their conversation is constantly interrupted by people describing their ailments and asking the doctor for free medical advice. After an hour of this, the exasperated doctor asks the lawyer, "What do you do to stop people from asking you for legal advice when you're out of the office?" "I give it to them," replies the lawyer, "and then I send them a bill." The doctor is shocked, but agrees to give it a try. The next day, still feeling slightly guilty, the doctor prepares the bills. When he goes to place them in his mailbox, he finds a bill from the lawyer.
jvcuzner
Three doctors are discussing which types of patients they prefer. Doctor Watson says, ''I prefer librarians. All their organs are alphabetized.'' Doctor Fitzpatrick says, ''I prefer mathematicians. All their organs are numbered.'' Doctor Ahn says, ''I prefer lawyers. They're gutless, heartless, brainless, spineless, and their heads and rear-ends are interchangeable.''
Anonymous