Categories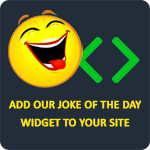 What do you call a lawyer who doesn't know the law? A judge.
Anonymous
What do you call a bench full of white people? The NBA!
kwikski19
While visiting a friend in the hospital, a young man notices several pretty nurses, each one of them wearing a pin designed to look like an apple. "What does the pin signify?" he asks one of them. "Oh! Nothing," she says with a chuckle, "we just use it to keep the doctors away."
VinceA
What do you have when 100 lawyers are buried up to their necks in sand? Not enough sand.
Anonymous
Why are proctologists so gloomy? They always have the end in sight.
rrivas137