Categories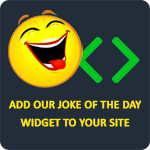 I love pressing F5. It is so refreshing.
Zach Booth
What is the difference between a waitress who works in a strip club and an actual stripper? About two weeks.
fimthelim
How can you tell when an engineer is an extrovert. He stares at YOUR shoes while he talks to you.
dustinc
Why are proctologists so gloomy? They always have the end in sight.
rrivas137
Q: What starts with a P, ends with an E, and has a 1,000 letters?
A: Post office.
CanadianBrunette