Categories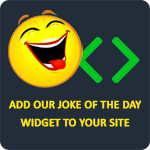 While visiting a friend in the hospital, a young man notices several pretty nurses, each one of them wearing a pin designed to look like an apple. "What does the pin signify?" he asks one of them. "Oh! Nothing," she says with a chuckle, "we just use it to keep the doctors away."
VinceA
If debugging is the process of removing software bugs, then programming must be the process of putting them in.
Edsger Dijkstra
What can a goose do that a duck can't, but a lawyer should? Shove its bill up its ass!
Anonymous
What is the difference between a waitress who works in a strip club and an actual stripper? About two weeks.
fimthelim
What do you call a bench full of white people? The NBA!
kwikski19