Categories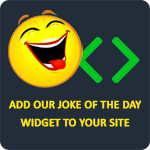 What do you call a bench full of white people? The NBA!
kwikski19
What do lawyers use as contraceptives? Their personalities.
Anonymous
Q: What starts with a P, ends with an E, and has a 1,000 letters?
A: Post office.
CanadianBrunette
What is the difference between a waitress who works in a strip club and an actual stripper? About two weeks.
fimthelim
Being an astronaut is funny. It's the only job where you get fired before you start work.
marty