Categories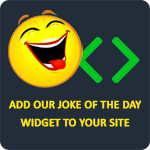 The employees at Taco Bell recently started wearing gloves when preparing the food. Ever wonder if their intentions are to protect their hands from the food they're serving?
curiositycultt
A dentist told a mother, "I'm sorry madam, but I'll have to charge you a $100 for pulling your boy's tooth." The mother exclaimed, "A $100! You said it was only $20!" "Yes," replied the dentist, "but he yelled so loudly that he scared four other patients out of the office!"
jahangir1352
Why can't designated hitters bake pancakes? They also forget the batter.
Repor9
What do you call an honest businessman? Asif.
makaveli19
A guy walks into a pharmacy to pick up his prescribed suppository and asks the pharmacist how to use it. The pharmacist tells him that he should take it rectally, and the guy leaves, confused. After 10 minutes, he comes back in and and asks her again how to use the suppository. The pharmacist tells him to put it in his anus, and the guy still seems confused, but leaves anyway. After an hour, he calls the pharmacy and asks the pharmacist how to use the suppository again, and she tells him, "Grab the suppository and shove it up your ass!" The guy yells back at the pharmacist, "No need to be rude, you're just doing your job!"
mezozon