Categories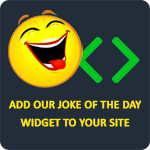 If an accountant's spouse cannot sleep, what is the best cure? Ask the accountant to talk about their work.
UncleJB
They say what happens in Vegas stays in Vegas, but lawyers can find you anywhere.
joshwade
Q: What's the difference between a genealogist and a gynecologist?
A: The genealogist checks the family tree and the gynecologist checks the family bush.
Mark My Words
Do you know what happens if you piss of a pilot? He takes off.
andres
What did the fireman name his two sons? Jose and Jose B.
cryswess