Categories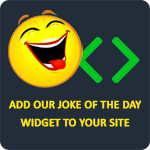 What did the fireman name his two sons? Jose and Jose B.
cryswess
What is the difference between a waitress who works in a strip club and an actual stripper? About two weeks.
fimthelim
A husband and wife are in church. The preacher notices that the husband has fallen asleep and says to the wife, "Wake your husband up!" The wife answers, "You're the one who made him fall asleep, you wake him up!"
Lalalala
They say what happens in Vegas stays in Vegas, but lawyers can find you anywhere.
joshwade
Why was the civil engineer's relationship so unstable? Because there was no truss left!
ggevorky123