Categories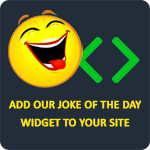 How can you tell when an engineer is an extrovert. He stares at YOUR shoes while he talks to you.
dustinc
Why are proctologists so gloomy? They always have the end in sight.
rrivas137
If an accountant's spouse cannot sleep, what is the best cure? Ask the accountant to talk about their work.
UncleJB
Being an astronaut is funny. It's the only job where you get fired before you start work.
marty
They say what happens in Vegas stays in Vegas, but lawyers can find you anywhere.
joshwade