Categories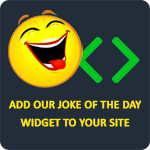 If an accountant's spouse cannot sleep, what is the best cure? Ask the accountant to talk about their work.
UncleJB
Q: What starts with a P, ends with an E, and has a 1,000 letters?
A: Post office.
CanadianBrunette
Q: What's the difference between a genealogist and a gynecologist?
A: The genealogist checks the family tree and the gynecologist checks the family bush.
Mark My Words
They say what happens in Vegas stays in Vegas, but lawyers can find you anywhere.
joshwade
We've been reading in the papers lately about terrible cruelty someone is causing to our winged friends by the shore, as many Pelicans have been found with their beaks cut off. Police suspect a local bill collector is behind it all.
MLG1