Categories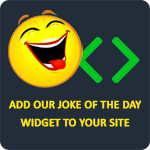 Do you know what happens if you piss of a pilot? He takes off.
andres
What did the fireman name his two sons? Jose and Jose B.
cryswess
What do you call an honest businessman? Asif.
makaveli19
Why was the civil engineer's relationship so unstable? Because there was no truss left!
ggevorky123
Why can't designated hitters bake pancakes? They also forget the batter.
Repor9