Categories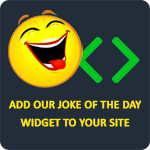 Why can't designated hitters bake pancakes? They also forget the batter.
Repor9
Q: What's the difference between a genealogist and a gynecologist?
A: The genealogist checks the family tree and the gynecologist checks the family bush.
Mark My Words
Q: What starts with a P, ends with an E, and has a 1,000 letters?
A: Post office.
CanadianBrunette
Being an astronaut is funny. It's the only job where you get fired before you start work.
marty