Categories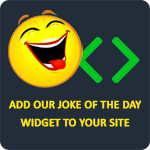 Why was the civil engineer's relationship so unstable? Because there was no truss left!
ggevorky123
A man was walking down the street and saw a sign in a store window that said "Help Wanted," so the man ran in the store and yelled out, "What's wrong?!"
Anonymous
What did the fireman name his two sons? Jose and Jose B.
cryswess
What do you call an honest businessman? Asif.
makaveli19
Being an astronaut is funny. It's the only job where you get fired before you start work.
marty