Categories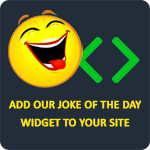 Q: Whats the difference between a politician and a snail?
A: One is slimy, a pest, and leaves a trail everywhere and the other is a snail.
Yambone
The recession is getting so bad, the bank sent me a new type of credit card. It was pre-declined.
shedpal
Congress does some strange things. They put a high tax on liquor and then raises the other taxes that drive people to drink.
TheLaughFactory
The NSA: a government organization that actually listens to you!
noahlegoid
Q: What's the difference between 9/11 and a cow?
A: You can't milk a cow for over 10 years.
M@mm1