Categories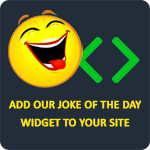 Q: Whats the difference between a politician and a snail?
A: One is slimy, a pest, and leaves a trail everywhere and the other is a snail.
Yambone
Q: What do you call a lawyer who has gone bad?
A: Senator.
Yo Daddyo
The words election and erection are spelled similarly. They both have the same meaning too: a dick rising to power.
Delilah Roberts
The recession is getting so bad, the bank sent me a new type of credit card. It was pre-declined.
shedpal
The NSA: a government organization that actually listens to you!
noahlegoid