Categories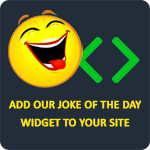 Congress does some strange things. They put a high tax on liquor and then raises the other taxes that drive people to drink.
TheLaughFactory
I was playing UNO with a bunch of Mexicans, and they were cheating because they kept stealing all the green cards.
ituvalu
Q: What's the difference between 9/11 and a cow?
A: You can't milk a cow for over 10 years.
M@mm1
What do you get when you cross a corrupt lawyer with a crooked politician? Chelsea Clinton.
Anonymous
Q: What did Osama Bin Laden's ghost say to Mitt Romney? A: "Don't be sad, Obama's foreign policy killed me too"
TheLaughFactory