Categories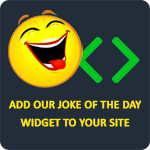 Have you heard about the Osama Bin Laden celebratory drink? It's two shots and a splash of water!
deaddisneybride
A priest, a politician, and a clown, walk into the bar. The bartender says, "What is this, some kind of joke?"
philjeske
It was so cold today, a Democrat had his hands in his own pockets!
Anonymous
What did Clinton say when asked if he had used protection? "Sure, there was a guard standing right outside the door."
Anonymous
Bill Clinton is no longer playing the saxophone. He is now playing the whore-Monica.
Mark My Words