Categories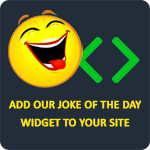 Congress does some strange things. They put a high tax on liquor and then raises the other taxes that drive people to drink.
TheLaughFactory
Q: What is Rodney King's least favorite band?
A: The Police.
Anonymous
I was walking down the street and I punched of a white guy and then I was arrested for assault. The next day after I got out, I punched a black guy and I was arrested for impersonating a police officer.
Mark Bolton
Q: What's the difference between 9/11 and a cow?
A: You can't milk a cow for over 10 years.
M@mm1
What do you get when you cross a corrupt lawyer with a crooked politician? Chelsea Clinton.
Anonymous