Categories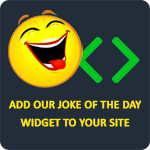 Q: What did Gandhi say to the British, after they asked him to move?
A: Nah, mastay.
Anonymous
The state dinner at the White House honored the prime minister of India, and the menu was vegetarian. How do you like that for Thanksgiving? No turkey, wrong Indians.
wendelsworld
How does Osama Bin Laden practice safe sex? He marks the camels that kick.
Anonymous
Why did the Pakistani cross the road? Because the American government was subsidizing the construction of mango harvesting and preservation infrastructure in the region on the other side, allowing farmers with the necessary means to develop strong ties to American markets and earn significant profits.
sbkenney
How did we know that Monica would testify? Because she has a history of not being able to keep her mouth closed.
Anonymous