Categories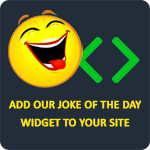 How did we know that Monica would testify? Because she has a history of not being able to keep her mouth closed.
Anonymous
Q: What is Rodney King's least favorite band?
A: The Police.
Anonymous
It was so cold today, a Democrat had his hands in his own pockets!
Anonymous
Women in Washington DC were asked if they would have sex with the President. 86% of those responding said, ''Not again.''
Anonymous
What's black, white, red, blue, green, yellow, purple, orange, and super easy for anyone to do? Michelle McGee, Jesse James' mistress.
msantopoalo