Categories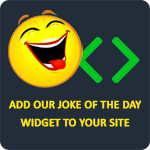 Q: What is Rodney King's least favorite band?
A: The Police.
Anonymous
How did we know that Monica would testify? Because she has a history of not being able to keep her mouth closed.
Anonymous
How does Osama Bin Laden practice safe sex? He marks the camels that kick.
Anonymous
It was so cold today, a Democrat had his hands in his own pockets!
Anonymous
Women in Washington DC were asked if they would have sex with the President. 86% of those responding said, ''Not again.''
Anonymous