Categories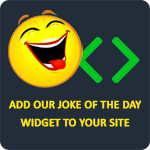 New Jersey Governor Chris Christie has said that he may run for President, but analysts predict it is much more likely that he will walk.
Obama
It was so cold today, a Democrat had his hands in his own pockets!
Anonymous
Q: What did Osama Bin Laden's ghost say to Mitt Romney? A: "Don't be sad, Obama's foreign policy killed me too"
TheLaughFactory
Bill Clinton is no longer playing the saxophone. He is now playing the whore-Monica.
Mark My Words
Q: What did Gandhi say to the British, after they asked him to move?
A: Nah, mastay.
Anonymous