Categories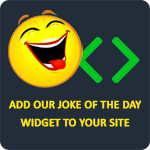 I went into a Liberal clothing store today to purchase some pants. When I started trying on a few pairs, I noticed that all the pockets except one were visibly removed. I stopped a clerk and ask him if anyone complained. He said "No, Liberals always want a hand out." I asked what happened to the other pockets. "They don't go to waste: Conservatives use them to line theirs."
thechz
How does Osama Bin Laden practice safe sex? He marks the camels that kick.
Anonymous
How did we know that Monica would testify? Because she has a history of not being able to keep her mouth closed.
Anonymous
Rush Limbaugh wanted to buy an NFL team. His spectacle for him to see black people hit each other while the white quarterback is being protected. Reminds him of the America he loves.
lnasso
Bill Clinton is no longer playing the saxophone. He is now playing the whore-Monica.
Mark My Words