Categories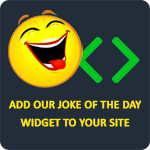 Women in Washington DC were asked if they would have sex with the President. 86% of those responding said, ''Not again.''
Anonymous
What's black, white, red, blue, green, yellow, purple, orange, and super easy for anyone to do? Michelle McGee, Jesse James' mistress.
msantopoalo
Q: What did Osama Bin Laden's ghost say to Mitt Romney? A: "Don't be sad, Obama's foreign policy killed me too"
TheLaughFactory
It was so cold today, a Democrat had his hands in his own pockets!
Anonymous