Categories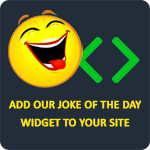 Q: What do you get when you combine a sex addict with a lesbian?
A: Bill and Hillary.
Anonymous
Q: What did Gandhi say to the British, after they asked him to move?
A: Nah, mastay.
Anonymous
Q: What did Saddam Hussein and Little Miss Muffit have in common?
A: They both had curds (Kurds) in their way (whey).
Mark My Words
A politician will find an excuse to get out of anything except office.
Paul Beisner
Women in Washington DC were asked if they would have sex with the President. 86% of those responding said, ''Not again.''
Anonymous