Categories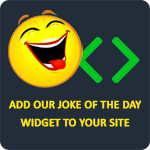 What did Clinton say when asked if he had used protection? "Sure, there was a guard standing right outside the door."
Anonymous
A politician will find an excuse to get out of anything except office.
Paul Beisner
I was walking down the street and I punched of a white guy and then I was arrested for assault. The next day after I got out, I punched a black guy and I was arrested for impersonating a police officer.
Mark Bolton
How does Osama Bin Laden practice safe sex? He marks the camels that kick.
Anonymous
The state dinner at the White House honored the prime minister of India, and the menu was vegetarian. How do you like that for Thanksgiving? No turkey, wrong Indians.
wendelsworld