Categories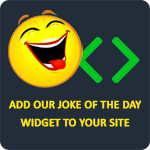 Bill Clinton is no longer playing the saxophone. He is now playing the whore-Monica.
Mark My Words
Women in Washington DC were asked if they would have sex with the President. 86% of those responding said, ''Not again.''
Anonymous
Q: What did Gandhi say to the British, after they asked him to move?
A: Nah, mastay.
Anonymous
What's black, white, red, blue, green, yellow, purple, orange, and super easy for anyone to do? Michelle McGee, Jesse James' mistress.
msantopoalo
A politician will find an excuse to get out of anything except office.
Paul Beisner