Categories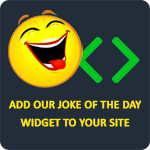 Q: What is the dirtiest line said on television?
A: "Ward, I think you were a little hard on the Beaver last night."
Mark My Words
Q: What did Gandhi say to the British, after they asked him to move?
A: Nah, mastay.
Anonymous
The Lone Ranger woke to see his tent blown away by a tornado. He declared, "Tonto, we're not in canvas anymore."
@flipyou_co_uk
What did Jay-Z call his girlfriend before getting married? Feyoncè.
Joy Barr
Q: Why do blonde girls walk in groups of odd numbers?
A: Because they can't even!
Jojo C