Categories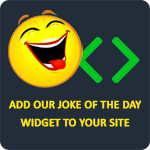 Bill Clinton is no longer playing the saxophone. He is now playing the whore-Monica.
Mark My Words
Did you hear about Whitney Houston's funeral? The line leading to the coffin stretched into the street. A few people showed up too.
Lefty
Q: How does a woman have safe sex in Detroit?
A: She locks the car doors.
jimbo.
Q: What is Doctor Who's favorite snack?
A: Pop-TARDIS.
Mishaz
"Burt Reynolds once asked me out. I was in his room." — Phyllis Diller
Anonymous