Categories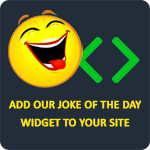 What's the difference between Tiger Woods and the Titanic? Only 15,000 people went down on the Titanic.
20jv10
Curiosity killed the cat. Michael Vick killed the dog.
Karmakameleeon
Q: How does a woman have safe sex in Detroit?
A: She locks the car doors.
jimbo.
Q: What do the starship Enterprise and toilet paper have in common?
A: They both probe Uranus and wipe out Klingons.
Mark My Words
Why is Ray Charles happy? Because he doesn't know he's black.
gumby918