Categories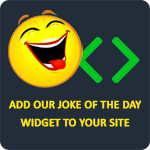 Q: What did Gandhi say to the British, after they asked him to move?
A: Nah, mastay.
Anonymous
Why did Mickey Mouse go to space? To visit Pluto.
panorama14
Chuck Norris once ate a whole cake before his friends could tell him there was a stripper in it.
vinhx408
Tiger Woods plays 18 holes. Both on and off the golf course.
jdg62
I asked my three year old grandson Malachi what his name was, he replied, "Spiderman." I said, "Malachi, what is your real name?" He replied, "Peter Parker."
dwaynereed32