Categories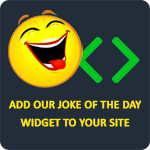 I wonder what Edward Scissorhands thinks of touchscreen technology.
latinopunk91
What do Michael Jackson and caviar have in common? They both come on little white crackers.
chefawkes
Q: What does Miley Cyrus eat for Christmas dinner?
A: Roast twerky!
Anonymous
Q: What is the dirtiest line said on television?
A: "Ward, I think you were a little hard on the Beaver last night."
Mark My Words
Q: Why does Micheal Jackson like twenty six year olds?
A: Because there's twenty of them.
eric