Categories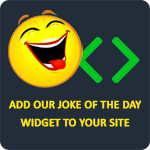 Q. Five gay guys are walking down the street; which way do they turn? A. One Direction.
Anonymous
After listening to some of Whitney Houston's last, raspy performances, it was pretty clear she didn't end her career on "high" note...or did she? Tox report still pending.
whosrushin
"Well, I could be wrong, but I believe, uh, diversity is an old, old wooden ship that was used during the Civil War era." - Ron Burgundy, Anchorman
Lolalovesleaves
Q: What does Mortal Kombat and a church in Helsinki have in common?
A: Finnish Hymn!
Anonymous
Q: What is the difference between the American flag and American Idol?
A: The American flag actually has stars.
reece robinson