Categories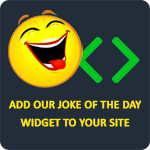 What did Jay-Z call his girlfriend before getting married? Feyoncè.
Joy Barr
I hear OJ Simpson is working on a stand up act in jail, apparently he kills everytime.
TrentMabry
Q: What show do cows love to watch while they're eating?
A: Graze Anatomy.
Melzinger
Q: What do the starship Enterprise and toilet paper have in common?
A: They both probe Uranus and wipe out Klingons.
Mark My Words
Q: What did Gandhi say to the British, after they asked him to move?
A: Nah, mastay.
Anonymous