Categories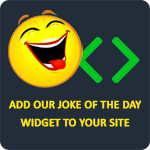 Q: Why does Micheal Jackson like twenty six year olds?
A: Because there's twenty of them.
eric
Q: Why did Mickey Mouse get shot?
A: Because Donald ducked!
Racal
Q: What is the dirtiest line said on television?
A: "Ward, I think you were a little hard on the Beaver last night."
Mark My Words
Why did the rapper carry an umbrella?



Fo' drizzle.
damngoditpizza
Q: Why do blonde girls walk in groups of odd numbers?
A: Because they can't even!
Jojo C