Categories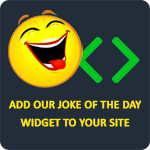 Curiosity killed the cat. Michael Vick killed the dog.
Karmakameleeon
How do you find Ronald McDonald at a nude beach? You look for the sesame seed buns!
turtle91
What's the difference between Tiger Woods and the Titanic? Only 15,000 people went down on the Titanic.
20jv10
Q: How did the frog die?
A: He Kermit suicide.
CrayolaRainbow20
Yo mama so ugly she's the reason Sonic runs fast.
Anonymous