Categories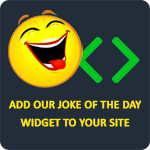 Why is Ray Charles happy? Because he doesn't know he's black.
gumby918
Q: What do you call security guards working outside Samsung shops?
A: Guardians of the Galaxy.
Anonymous
Q: How did the frog die?
A: He Kermit suicide.
CrayolaRainbow20
Yo mama so ugly she's the reason Sonic runs fast.
Anonymous
Q: What did Gandhi say to the British, after they asked him to move?
A: Nah, mastay.
Anonymous