Categories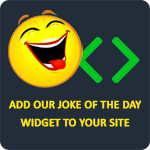 Q: What is the dirtiest line said on television?
A: "Ward, I think you were a little hard on the Beaver last night."
Mark My Words
It's a little unfair that Mike Vick is looked down upon for dog fighting, and The Mario Bros. are celebrated from taking mushrooms and turtle bashing.
sosofino
Q: What does Miley Cyrus eat for Christmas dinner?
A: Roast twerky!
Anonymous
Q: How do you turn a duck into a soul singer?
A: Put it in the microwave until it's Bill Withers.
iwe
Q: Why do blonde girls walk in groups of odd numbers?
A: Because they can't even!
Jojo C