Categories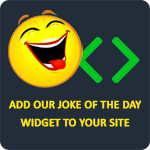 What type of meat does Lady GaGa eat? Raw raw raw huh haa!
narasek
Q: What does Mortal Kombat and a church in Helsinki have in common?
A: Finnish Hymn!
Anonymous
I surf the web a lot, and I guess I was using too much bandwidth, because the other day I got an automated phone call from my service provider. It was The Rolling Stones singing, "Hey, you. Get off of my cloud!"
ProfessorMarvel
The Lone Ranger woke to see his tent blown away by a tornado. He declared, "Tonto, we're not in canvas anymore."
@flipyou_co_uk
Q: What kind of wood doesn't float?
A: Natalie Wood.
My Uncle Bob