Categories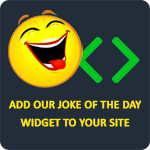 Q: Why does Micheal Jackson like twenty six year olds?
A: Because there's twenty of them.
eric
Q: How do you turn a duck into a soul singer?
A: Put it in the microwave until it's Bill Withers.
iwe
How do you wake up Lady Gaga? Poke'r Face.
alzada
Q: Why do blonde girls walk in groups of odd numbers?
A: Because they can't even!
Jojo C
I wonder what Edward Scissorhands thinks of touchscreen technology.
latinopunk91