Categories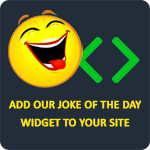 The Lone Ranger woke to see his tent blown away by a tornado. He declared, "Tonto, we're not in canvas anymore."
@flipyou_co_uk
Q: What did Cinderella say when she dropped her film off at the photo lab?
A: "Someday my prints will come."
Anonymous
What did Jay-Z call his girlfriend before getting married? Feyoncè.
Joy Barr
Q: What does Mortal Kombat and a church in Helsinki have in common?
A: Finnish Hymn!
Anonymous
I hear OJ Simpson is working on a stand up act in jail, apparently he kills everytime.
TrentMabry