Categories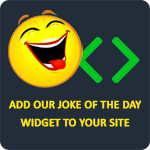 Q: What does Mortal Kombat and a church in Helsinki have in common?
A: Finnish Hymn!
Anonymous
Yo mama so old, she knew 50 Cent when he was only a quarter.
Anonymous
What's the difference between Tiger Woods and the Titanic? Only 15,000 people went down on the Titanic.
20jv10
Yo mama is so fat when Jabba's guard pushed her into the sarlacc pit, it choked to death.
Anonymous
Yo mama so ugly she's the reason Sonic runs fast.
Anonymous