Categories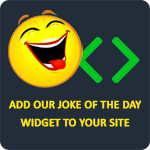 Q: What did Gandhi say to the British, after they asked him to move?
A: Nah, mastay.
Anonymous
Q: What does Mortal Kombat and a church in Helsinki have in common?
A: Finnish Hymn!
Anonymous
Did you hear about Whitney Houston's funeral? The line leading to the coffin stretched into the street. A few people showed up too.
Lefty
What is the differece between Han Solo and Chewbacca? One's a hairy and inaudible man and the other one's Chewbacca.
Repor9
Q: What's brown and rhymes with Snoop?
A: Dr. Dre!
Lindseyfay01