Categories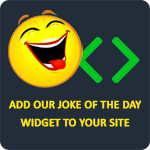 Yo mama so old, she knew 50 Cent when he was only a quarter.
Anonymous
Yo mama so ugly she's the reason Sonic runs fast.
Anonymous
Q: What show do cows love to watch while they're eating?
A: Graze Anatomy.
Melzinger
Q: How did the frog die?
A: He Kermit suicide.
CrayolaRainbow20
How do you find Ronald McDonald at a nude beach? You look for the sesame seed buns!
turtle91