Categories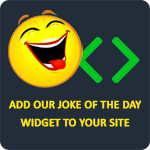 Q: What kind of wood doesn't float?
A: Natalie Wood.
My Uncle Bob
Charles Dickens walks into a bar and asks for a martini. The bartender asks, "Olive or twist?"
jokes.cc.com
Q: What is the difference between the American flag and American Idol?
A: The American flag actually has stars.
reece robinson
Q: What did Gandhi say to the British, after they asked him to move?
A: Nah, mastay.
Anonymous
Q. Five gay guys are walking down the street; which way do they turn? A. One Direction.
Anonymous