Categories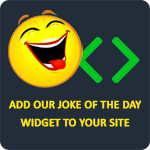 Curiosity killed the cat. Michael Vick killed the dog.
Karmakameleeon
How do you find Ronald McDonald at a nude beach? You look for the sesame seed buns!
turtle91
Q: Why do blonde girls walk in groups of odd numbers?
A: Because they can't even!
Jojo C
Q: How did the frog die?
A: He Kermit suicide.
CrayolaRainbow20
Why is Ray Charles happy? Because he doesn't know he's black.
gumby918