Categories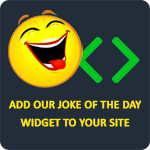 I wonder what Edward Scissorhands thinks of touchscreen technology.
latinopunk91
Q: Why did Mickey Mouse get shot?
A: Because Donald ducked!
Racal
What do Michael Jackson and caviar have in common? They both come on little white crackers.
chefawkes
The Lone Ranger woke to see his tent blown away by a tornado. He declared, "Tonto, we're not in canvas anymore."
@flipyou_co_uk
Why did the rapper carry an umbrella?



Fo' drizzle.
damngoditpizza