Categories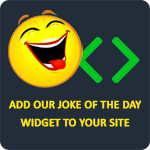 Chuck Norris once ate a whole cake before his friends could tell him there was a stripper in it.
vinhx408
Q: What does Miley Cyrus eat for Christmas dinner?
A: Roast twerky!
Anonymous
I asked my three year old grandson Malachi what his name was, he replied, "Spiderman." I said, "Malachi, what is your real name?" He replied, "Peter Parker."
dwaynereed32
Tiger Woods plays 18 holes. Both on and off the golf course.
jdg62
I wonder what Edward Scissorhands thinks of touchscreen technology.
latinopunk91