Categories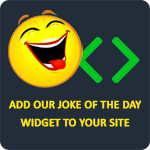 Why did LeBron cross the road? To put the hammer down!
LaRhonda
Q: How did the frog die?
A: He Kermit suicide.
CrayolaRainbow20
Q: What do you call security guards working outside Samsung shops?
A: Guardians of the Galaxy.
Anonymous
Yo mama so ugly she's the reason Sonic runs fast.
Anonymous
Q: What is Doctor Who's favorite snack?
A: Pop-TARDIS.
Mishaz