Categories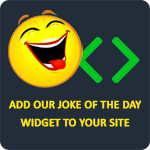 Q: What did Cinderella say when she dropped her film off at the photo lab?
A: "Someday my prints will come."
Anonymous
Yo mama so old, she knew 50 Cent when he was only a quarter.
Anonymous
Yo mama so ugly she's the reason Sonic runs fast.
Anonymous
Q: What does Mortal Kombat and a church in Helsinki have in common?
A: Finnish Hymn!
Anonymous
What did Jay-Z call his girlfriend before getting married? Feyoncè.
Joy Barr