Categories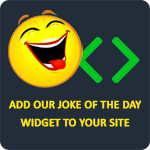 What's green and sings? Britney Spearagus.
atovar626
Celine Dion walks in a bar. The bartender asks, "Why the long face?"
Meggoty
What type of meat does Lady GaGa eat? Raw raw raw huh haa!
narasek
Q: What did Gandhi say to the British, after they asked him to move?
A: Nah, mastay.
Anonymous
Q: What is the difference between the American flag and American Idol?
A: The American flag actually has stars.
reece robinson