Categories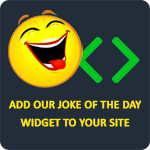 A black boy walks into the kitchen where his mother is baking and accidentally pulls the flour over onto his head. He turns to his mother and says, "Look Mama, I'm a white boy!" His mother smacks him and says, "Go tell your Daddy what you just said!" The boy finds his father and says, "Look Daddy, I'm a white boy!" His Daddy bends him over, spanks him, stands the boy back up, and says, "Now, what do you have to say for yourself?" The boy replies, "I've only been a white boy for five minutes and I already hate you black people!"
nghtvisn
Yo momma's so stupid, she put two quarters in her ears and thought she was listening to 50 Cent.
marquez007
Yo momma is so short, when she went to meet Santa he said, "Go back to work!"
Te Nui-a-Rangi
Sarah goes to school, and the teacher says, "Today we are going to learn multi-syllable words, class. Does anybody have an example of a multi-syllable word?" Sarah waves her hand, "Me, Miss Rogers, me, me!" Miss Rogers says, "All right, Sarah, what is your multi-syllable word?" Sarah says, "Mas-tur-bate." Miss Rogers smiles and says, "Wow, Sarah, that's a mouthful." Sarah says, "No, Miss Rogers, you're thinking of a blowjob."
Rodderiqus11
Two mental patients were walking next to a swimming pool. One jumped into the pool and the other jumped in to save him. Their doctor saw the rescue and called the rescuer to his office. "Due to your actions, it appears your mental state is fine," the doctor said to the patient, "You can go home to your family, but before you do, you should know that the person you saved hung himself today." The patient replied, "He didn't hang himself; I hung him there to dry."
Anonymous