Categories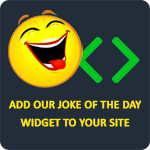 Q: What's the difference between a black man and a park bench?
A: A park bench can support a family of four.
Anonymous
Wife: "I look fat. Can you give me a compliment?"
Husband: "You have perfect eyesight."
coloured pencils
Yo momma is so fat that Dora can't even explore her!
Haydenjr1
Yo momma's so fat she needs cheat codes for Wii Fit.
joshdavis1991
Yo momma is so fat that when she saw a yellow school bus go by full of white kids she ran after it yelling, "TWINKIE!"
the master