Categories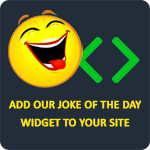 A man is talking to God. "God, how long is a million years?" God answers, "To me, it's about a minute." "God, how much is a million dollars?" "To me, it's a penny." "God, may I have a penny?" "Wait a minute."
Maysam
A bride tells her husband, "Honey, you know I'm a virgin and I don't know anything about sex. Can you explain it to me first?" "Okay, sweetheart. Putting it simply, we will call your private place 'the prison' and call my private thing 'the prisoner'. So what we do is put the prisoner in the prison." And they made love for the first time and the husband was smiling with satisfaction. Nudging him, his bride giggles, "Honey the prisoner seems to have escaped." Turning on his side, he smiles and says, "Then we will have to re-imprison him." After the second time, the bride says, "Honey, the prisoner is out again!" The husband rises to the occasion and they made love again. The bride again says, "Honey, the prisoner escaped again," to which the husband yelled, "Hey, it's not a life sentence!!!"
MrsChinchilla
What did the blonde say when she saw the Cheerios box? "Omg, donut seeds!"
love4sheryl
A man and woman had been married for 30 years, and in those 30 years, they always left the lights off when having sex. He was embarrassed and scared that he couldn't please her, so he always used a big dildo on her. All these years she had no clue. One day, she decided to reach over and flip the light switch on and saw that he was using a dildo. She said "I knew it, asshole, explain the dildo!" He said, "Explain the kids!"
skylertouchet
A blonde, out of money, and down on her luck after buying air at a real bargain, needed money desperately. To raise cash, she decided to kidnap a child and hold him for ransom. She went to the local playground, grabbed a kid randomly, took her behind a building, and told her, "I've kidnapped you." She then wrote a big note saying, "I've kidnapped your kid. Tomorrow morning, put $10,000 in a paper bag and leave it under the apple tree next to the slides, on the south side of the playground. Signed, A blonde." The blonde then pinned the note to the kid's shirt and sent him home to show it to his parents. The next morning, the blonde checked, and sure enough, a paper bag was sitting beneath the apple tree. The blonde looked in the bag and found the $10,000 with a note that said, "How could you do this to a fellow blonde?"
flypelican