Categories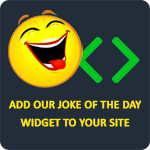 Yo momma's so fat that Mount Everest tried to climb her.
Anonymous
A blond girl was at the store, and just as she was heading for her car, someone stole it. The policemen asked, "Did you see the guy that did it?" She said, "No, but I got the license plate."
James Harris
Q: Why can't a blonde dial 911?
A: She can't find the eleven.
TheLaughFactory
A boss said to his secretary, "I want to have sex with you, but I will make it very fast. I'll throw $1,000 on the floor and by the time you bend down to pick it up, I'll be done." She thought for a moment then called her boyfriend and told him the story. Her boyfriend said, "Do it but ask him for $2,000. Then pick up the money so fast, he won't even have enough time to undress himself." She agrees. After half an hour passes, the boyfriend calls the girlfriend and asks, "So what happened?" She responds, "The bastard used coins, so I'm still picking it up and he is still having sex with me!"
Bertha Kee
There was a blonde, a redhead, and a brunette. They were all trapped on an island and the nearest shore was 50 miles away. The redhead swam trying to make it to the other shore she swam 15 miles, drowned, and died. The brunette swam 24 miles, drowned, and died. The blonde swam 25 miles, got tired, and swam back.
Donovan