Categories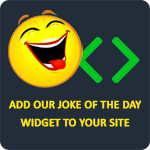 Mr. and Mrs. Brown had two sons. One was named Mind Your Own Business & the other was named Trouble. One day the two boys decided to play hide and seek. Trouble hid while Mind Your Own Business counted to one hundred. Mind Your Own Business began looking for his brother behind garbage cans and bushes. Then he started looking in and under cars until a police man approached him and asked, "What are you doing?" "Playing a game," the boy replied. "What is your name?" the officer questioned. "Mind Your Own Business." Furious the policeman inquired, "Are you looking for trouble?!" The boy replied, "Why, yes."
Anonymous
A little girl and boy are fighting about the differences between the sexes, and which one is better. Finally, the boy drops his pants and says, "Here's something I have that you'll never have!" The little girl is pretty upset by this, since it is clearly true, and runs home crying. A while later, she comes running back with a smile on her face. She drops her pants and says, "My mommy says that with one of these, I can have as many of those as I want!"
Anonymous
Q: How do Chinese people name their babies?
A: They throw them down the stairs to see what noise they make.
Anonymous
Yo momma is so fat when she sat on WalMart, she lowered the prices.
zacky
A lady goes to the doctor and complains that her husband is losing interest in sex. The doctor gives her a pill, but warns her that it's still experimental. He tells her to slip it into his mashed potatoes at dinner, so that night, she does just that. About a week later, she's back at the doctor, where she says, "Doc, the pill worked great! I put it in the potatoes like you said! It wasn't five minutes later that he jumped up, raked all the food and dishes onto the floor, grabbed me, ripped all my clothes off, and ravaged me right there on the table!" The doctor says, "I'm sorry, we didn't realize the pill was that strong! The foundation will be glad to pay for any damages." "Nah," she says, "that's okay. We're never going back to that restaurant anyway."
Mariah