Categories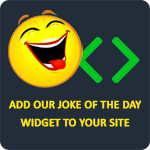 What did the farmer get when he crossed a centipede with a Turkey? 100 Drumsticks.
Susan7777
Q: What did the duck say when he bought lipstick?
A: "Put it on my bill."
TheLaughFactory
Why isn't the turkey hungry at Thanksgiving? Because he's already stuffed!
Anonymous
Yo momma is so stupid she brought a spoon to the super bowl.
Angel Stalone
A guy took his blonde girlfriend to her first football game. They had great seats right behind their team's bench. After the game, he asked her how she liked the experience. "Oh, I really liked it," she replied, "especially the tight pants and all the big muscles, but I just couldn't understand why they were killing each other over 25 cents." Dumbfounded, her date asked, "What do you mean?" "Well, they flipped a coin, one team got it, and then for the rest of the game, all they kept screaming was, 'Get the quarterback! Get the quarterback!' I'm like, hello? It's only 25 cents!"
laurieleebrown