Categories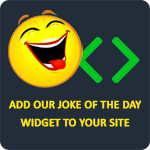 How do you blindfold a Chinese person? Put floss over their eyes.
kallen007
A man and woman had been married for 30 years, and in those 30 years, they always left the lights off when having sex. He was embarrassed and scared that he couldn't please her, so he always used a big dildo on her. All these years she had no clue. One day, she decided to reach over and flip the light switch on and saw that he was using a dildo. She said "I knew it, asshole, explain the dildo!" He said, "Explain the kids!"
skylertouchet
If a man opens the car door for his wife, you can be sure of one thing: either the car is new or the wife.
Anonymous
Yo momma is so fat when she sat on WalMart, she lowered the prices.
zacky
Why are asprins white? Because they work!
ScottBackman