Categories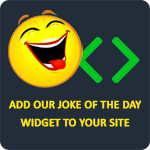 A man is talking to God. "God, how long is a million years?" God answers, "To me, it's about a minute." "God, how much is a million dollars?" "To me, it's a penny." "God, may I have a penny?" "Wait a minute."
Maysam
Mr. and Mrs. Brown had two sons. One was named Mind Your Own Business & the other was named Trouble. One day the two boys decided to play hide and seek. Trouble hid while Mind Your Own Business counted to one hundred. Mind Your Own Business began looking for his brother behind garbage cans and bushes. Then he started looking in and under cars until a police man approached him and asked, "What are you doing?" "Playing a game," the boy replied. "What is your name?" the officer questioned. "Mind Your Own Business." Furious the policeman inquired, "Are you looking for trouble?!" The boy replied, "Why, yes."
Anonymous
A boy says to a girl, "So, sex at my place?" "Yeah!" "Okay, but I sleep in a bunk bed with my younger brother, and he thinks we're making sandwiches, so we have to have a code. Cheese means faster and tomato means harder, okay?" Later on the girl is yelling, "Cheese cheese, tomato tomato!" The younger brother says, "Stop making sandwiches! You're getting mayo all over my bed!"
jalvarez100
Q: Why did President Obama get two terms?
A: Because every black man gets a longer sentence.
CHRIS
Sarah goes to school, and the teacher says, "Today we are going to learn multi-syllable words, class. Does anybody have an example of a multi-syllable word?" Sarah waves her hand, "Me, Miss Rogers, me, me!" Miss Rogers says, "All right, Sarah, what is your multi-syllable word?" Sarah says, "Mas-tur-bate." Miss Rogers smiles and says, "Wow, Sarah, that's a mouthful." Sarah says, "No, Miss Rogers, you're thinking of a blowjob."
Rodderiqus11