Categories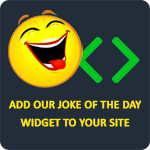 Roses are red.
Your blood is too.
You look like a monkey
And belong in a zoo.
Do not worry,
I'll be there too.
Not in the cage,
But laughing at you.
Anonymous
A little girl and boy are fighting about the differences between the sexes, and which one is better. Finally, the boy drops his pants and says, "Here's something I have that you'll never have!" The little girl is pretty upset by this, since it is clearly true, and runs home crying. A while later, she comes running back with a smile on her face. She drops her pants and says, "My mommy says that with one of these, I can have as many of those as I want!"
Anonymous
"Babe is it in?" "Yea." "Does it hurt?" "Uh huh." "Let me put it in slowly." "It still hurts." "Okay, let's try another shoe size."
guzz
It was Christmas Eve. A woman came home to her husband after a day of busy shopping. Later on that night when she was getting undressed for bed, he noticed a mark on the inside of her leg. "What is that?" he asked. She said, "I visited the tattoo parlor today. On the inside of one leg I had them tattoo 'Merry Christmas,' and on the inside of the other one they tattooed 'Happy New Year.'" Perplexed, he asked, "Why did you do that?" "Well," she replied, "now you can't complain that there's never anything to eat between Christmas and New Years!"
TheLaughFactory
One day, there were two boys playing by a stream. One of the young boys saw a bush and went over to it. The other boy couldn't figure out why his friend was at the bush for so long. The other boy went over to the bush and looked. The two boys were looking at a woman bathing naked in the stream. All of a sudden, the second boy took off running. The first boy couldn't understand why he ran away, so he took off after his friend. Finally, he caught up to him and asked why he ran away. The boy said to his friend, "My mom told me if I ever saw a naked lady, I would turn to stone, and I felt something getting hard, so I ran."
sponger619